Video: Cop tends to memorial of woman killed in crash 20 years ago
"It's right in the middle of my beat assignment and I was not going to let her death be forgotten," said Officer Jeff Stagg
---
By Suzie Ziegler 
INDIANAPOLIS — An Indianapolis officer was praised for going above and beyond the call of duty this month after a passerby shared video of his act of kindness. The video shows Officer Jeff Stagg cleaning up the roadside memorial of a woman who was killed there 20 years ago by a drunk driver. 
"There are pieces of jewelry here and as you've seen I've tried to keep the trash picked up because trash just blows around here," Stagg said, according to WTHR.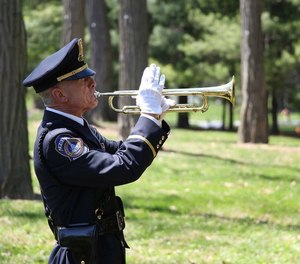 Kaleb Hall, who posted the video on TikTok, was driving by when he saw Stagg tending to the memorial. 
"You don't see this a lot. There is a cop over there picking up trash," Hall said in the video.
Hall thanked the officer. Stagg explained that he wasn't on duty at the time, but he had decided to keep an eye on the memorial, according to WTHR. 
"It's right in the middle of my beat assignment and I was not going to let her death be forgotten and the memorial go unattended," Stagg said in the video.
Stagg told WTHR that the recognition and support is always appreciated. 
"I really appreciate you taking the time to stop that day. It made my day," he told Hall.
Stagg was last featured on Police1 in 2019. Read his poem, "You've Got the Good Cops!" here.