3 Ariz. officers shot; suspect arrested after 12-hour standoff
The man wounded officers in two separate shootings, then barricaded himself inside a home and set it on fire
---
Nelson Oliveira
New York Daily News
CHANDLER, Ariz. — An Arizona man shot and wounded three police officers on Monday before barricading himself inside a home and then setting it on fire in a failed attempt to flee through the smoke, authorities said.
The 12-hour standoff rattled a neighborhood in Chandler, just south of Phoenix, with heavily armed cops and even helicopters surrounding the house until the suspect was arrested.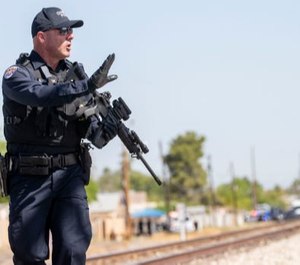 The man, identified as 35-year-old Rigoberto Jimenez, shot the first officer during a foot chase around 1 a.m., according to Chandler Police Department. The patrol officer was investigating a report of a suspicious person possibly breaking into cars in the area when Jimenez fired multiple shots at him, striking him below the waist, police said.
The officer was treated at a local hospital and was expected to be OK.
The second shooting happened around 7 a.m. after authorities tracked the suspect to a home where he fired his weapon again at the police, Det. Seth Tyler told reporters at the scene.
Two cops were hit, but the shots didn't penetrate their bullet-proof vests. One of the officers sustained a wound to the back of his head during the incident and was taken to the hospital for treatment, Tyler said.
Jimenez refused to leave the house for another five hours until authorities decided to force their way into the home around noon, according to police. But as soon as they tried getting inside, the house started burning with heavy smoke covering much of the property.
Police believe the suspect intentionally set the fire to try to flee from the cops. It didn't work — he was caught moments later at a nearby apartment complex.
Jimenez was charged with attempted murder, aggravated assault with a deadly weapon, arson, possession of a weapon by a prohibited person and other offenses, online jail records show.
Authorities said all three cops who were shot are recovering at home.
McClatchy-Tribune News Service