Clackamas sheriff: 'How we prepared for mall shooting'
Department has learned from past tragedies not to wait for SWAT to arrive
---
By Police1 Staff
PORTLAND, Ore —  A Clackamas County Sheriff says that preparation and training may have helped reduce the number of fatalities at Tuesday's mall shooting.
Jacob Tyler Roberts, 22,  who was wearing a camouflage outfit and a white mask, shot an initial burst of fire and then more rounds at Clackamas Town Center.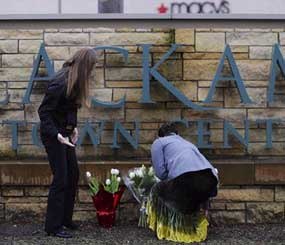 "Law enforcement has learned through past tragedies that we can't wait for SWAT teams, and teams need to deploy immediately," said Sheriff Craig Roberts during a news conference.
"We were also well prepared for this incident because we had practice in active shooter techniques at the Clackamas Town Center this past year, just for this type of situation.
"Many people have asked me why there were so few victims during this incident…I believe it's a combination of factors that led to this outcome."
• Based on the evidence obtained, the suspect's rifle jammed while he was attacking individuals in the food court
• The mall had a lockdown procedure in place for this type of incident, and implemented that program successfully
• A large number of officers arrived on the scene quickly, curtailing the suspect's ability to move around the mall
• 10,000 people in the mall at one time kept a level-head, getting themselves and others safely out of the mall
"Taking together these four factors limited the suspect's access to potential victims and gave him less time to harm others," Roberts said.
He went on to praise neighboring jurisdictions for their support during the incident.
"I would like to thank our local, state and federal law enforcement partners for their extraordinary efforts," Roberts said.
"Several neighboring jurisdictions said 'Send everybody;' they were talking about all the patrol officers for their small cities.
"This was even when we had already determined the shooter was dead. This level of support was absolutely amazing. It gave us the ability to continue to the get the investigation done in quick manner and move forward to get some resolution on this.
Mark Lomax, executive director of the National Tactical Officers Association told CBS, the response highlighted the paradigm shift in police responses since Columbine.
"In the past, it was the standard protocol if there was a shooting incident or a barricade suspect or a hostage situation, the first responder would secure and contain the crime situation until the SWAT team or negotiators or bomb techs would arrive," he said.
"It takes a while for a fully equipped SWAT team or hostage negotiation team to get to the scene. We've realized over many sad incidents that time is of the essence when it comes to saving lives and that those first responders should be fully knowledgeable with how to handle those situations. "