In wake of Parkland shooting, police chiefs push for gun control
Two South Florida police chiefs want weapons like AR-15s out of the hands of civilians
---
By Charles Rabin And Jay Weaver
Miami Herald
BROWARD COUNTY, Fla. — For Broward County Sheriff Scott Israel, the anguish of Florida's worst school shooting remains raw. Families are still burying some of the 17 students and faculty members killed at Marjory Stoneman Douglas High School in Parkland, victims of a deeply troubled ex-student with an assault rifle.
For Miami Beach Police Chief Dan Oates, the scars are six years old but still deep. He headed the police department in Aurora, Colorado, when a mentally ill killer armed with a similar high-power rifle killed a dozen and injured 70 others in a movie theater.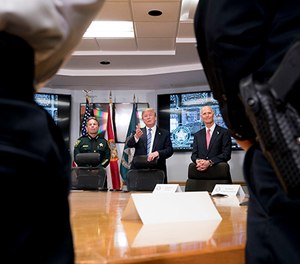 These two South Florida police chiefs share the up-close and personal horrors of overseeing mass shooting investigations that have reinforced their beliefs about gun control:
First, they want military-style weapons like AR-15 rifles, the weapon used in both events, out of the hands of civilians. Second, they argue that lenient state and national gun laws and mental health privacy laws are hampering the mission of police to keep the public safe from gun violence, prohibiting officers from confiscating weapons — often even from people who have produced a trail of warnings like Parkland shooter Nikolas Cruz.
"Based on the law, if someone [who has weapons] says I want to grow up and be a serial killer, there's nothing you can do about it," Israel told the Miami Herald on Monday. "We can't arrest for something a person is thinking about."
They're not alone among top state law enforcement officers calling for lawmakers to tighten gun control and reverse decades of bidding by the powerful National Rifle Association. The Florida Police Chiefs Association has called for an emergency meeting Monday night that Florida Gov. Rick Scott is expected to attend. Exactly what suggestions might emerge, is not yet clear.
Kevin Lystad, the Miami Shores police chief who is president of the FPCA, said the plan is to offer gun legislation to state lawmakers in the coming weeks. Lystad said he's focused on assault weapons and background checks.
"Congress messed up when they didn't renew the assault weapons ban [in 2004]. I think that was problematic," Lystad said. "We need to deal with assault weapons, background checks. It's about finding common ground."
One immediate change that Oates and Israel want to see: Ban the legal sale of the AR-15s used in both massacres.
"In only one condition should you have an assault rifle, if you've joined the Marines and you're going to fight," Israel said.
The chiefs have joined a growing chorus of gun control advocates statewide that is suddenly being led by the young survivors of Stoneman Douglas shootings. A number of the students are busing up to Tallahassee and expect to meet with state legislators on Wednesday.
One thing clearly on the agenda will be how to restrict weapons access to people like Cruz and Colorado shooter James Eagan Holmes, who issued threats while also undergoing mental health care. It's an issue where protecting mental health privacy will likely clash with increasining public safety.
Aurora killer Holmes, for instance, "was in psychiatric treatment for months before the shooting,'' said Oates. "There were indicators in his digital profile for months before the shooting. Like all the rest of the cases, it was out there."
According to Oates, a psychiatrist who had been treating Holmes told a university police department that her patient had been fantasizing about killing lots of people. The police chose not to Baker Act Holmes and did not pass along the information.
Law enforcement sources say Cruz had purchased at least five guns other than the AR-15 semiautomatic rifle he used to mow down the students. A call to an FBI hotline in January that warned Cruz was planning a school shooting, was never forwarded to the Miami field office. And the Broward Sheriff's Office received dozens of calls about Cruz's erratic behavior.
It's far from the first time that issues of gun control and mental health have become national talking points.
Despite similar massacres in Aurora, at Sandy Hook Elementary in Connecticut, at the Pulse nightclub in Orlando and at a concert on the Las Vegas strip only last year, Congress has largely rejected calls for gun control — even those from first responders they so often praise after massacres.
Many police chiefs, particularly in big cities, have long pressed for tougher gun laws to protect the public and their own officers to largely no avail.
Miami-Dade Police Director Juan Perez said he has first-hand knowledge of the difficulty of monitoring an unstable person who poses a serious potential threat.
He said he has been contacted repeatedly by someone he says exhibits signs of mental illness. Police went to his home, Perez said, and found a cache of weapons, including a hunting rifle. There's little police can do, Perez said, because the person has not committed a crime.
"This guy has hunting rifles," said the director. "There has to be reform on both sides — on mental illness and on firearms."
Carlos Baixauli, a retired agent who worked at the Bureau of Alcohol, Tobacco, Firearms and Explosives in Miami, said reform of any kind is a "major problem because of the conflicts between privacy laws and gun rights."
Baixauli, who spent his 30-year career in South Florida, said at the very least there should be universal background checks on all gun sales, including private sales, which are unregulated. He also praised several states that have passed firearms-restraining laws that — patterned after the Baker Act — would allow a family member or friend who knows that a person is exhibiting "red flags" to go and apply for such an order.
Baixauli said that politicians in Washington, under the sway of the NRA, also have blocked efforts for a national gun registry. Under current federal regulations, a gun store owner keeps the record of a criminal and mental background check on a buyer.
An ATF agent or investigator only sees the form if a trace of a specific weapon is requested or during a gun shop inspection. The agency doesn't keep any copies of the background check. In fact, whether the gun buyer clears the background check or not, the federal Brady law requires the history of that search be purged as a record.
"I don't see why they [law enforcement] shouldn't be allowed to keep the background checks on persons prohibited from buying guns," Baixauli said.
The difficulties of reform have been well chronicled. The NRA, one of the most powerful lobbies in the country, has successfully fought to restrict waiting periods for gun purchases and to avoid limits on the number of bullets in magazines used with assault rifles. It has successfully opposed a national gun registry and universal background checks.
While the NRA is the most powerful lobbying voice against gun-control, strong regional and cultural resistance also has defeated past efforts to tighten national gun laws. In more rural regions, residents have made it clear that backing gun control would be political suicide for lawmakers.
Colorado state senators John Morse and Angela Giron, for instance, were recalled from office after the Aurora shooting when they voted for new laws that would have imposed universal background checks on gun purchases and limited magazines to 15 rounds.
Miami-Dade, Broward and Palm Beach County have enacted more restrictive weapons purchase laws than the rest of the state. To buy a weapon in South Florida's largest counties — as Cruz did in Broward last February — there is a five-day waiting period for a background check. In the rest of the state there is a three-day wait for a handgun and no wait for a rifle.
To purchase an AR-15 like Cruz did at Sunrise Tactical Supply in Coral Springs, all he needed to do was fill out a firearms transactions record form issued by the Department of Justice. Cruz gave his name, address, date of birth, sex and height and included a copy of his driver's license. Cruz checked off "no" in the section that asked if he'd been adjudicated or institutionalized for mental illness.
Oates, the Miami Beach police chief, called it a "given" that at the very least a person should not be able to buy an assault weapon until 21. Federal law allows such a purchase at 18. The Miami Beach chief said he'd like to see lawmakers pass a bill that would put the burden of proof on the suspect after he or she is Baker Acted.
Israel struck a similar tone, saying police would be more likely to employ the Baker Act if they knew it would keep guns out of the hands of unstable people for more than 72 hours. He believes they should not be able to retrieve their weapons until a doctor clears them as mentally healthy.
State social workers were called to Cruz's home in 2016 when he became despondent after breaking up with a girlfriend and made a Snapchat video of himself cutting his arms. They chose not to hospitalize him. It was one of a number of episodes of erratic behavior.
"When we release someone from a mental health facility, they're not healed," Israel said. "You have to be an immediate threat [to others or yourself] or by law your weapon has to be returned. Absolutely, we're handcuffed and our hands are tied."
©2018 Miami Herald
McClatchy-Tribune News Service