Rapid Response: 3 key takeaways from the Lafayette theater shooting
Whether or not Houser was conducting a classic copycat crime may never be known, but similarities in the two incidents cannot be understated
---
Following critical incidents, police officers across the country conduct a variety of debriefs. Some are formal, on-the-record conversations adherent to agency policy, while others are two or more officers discussing the event in a less formal setting. The latter type of debrief frequently happens when you're 10-7 — over coffee or during a meal. Questions are asked and answered include: What happened? What went well? What didn't? What can we learn? What does it mean for tomorrow? We at PoliceOne have similar conversations about incidents we observe, and will share the upshot of our analysis from afar in this space. Sound off with your thoughts on this incident in the comments section below.
What Happened: In a darkened movie theater in Lafayette (La.), a 59-year-old drifter named John Russell Houser suddenly stood up and opened fire on the audience. 21-year-old Louisiana State University-Eunice student Mayci Breaux and a 33-year-old gift shop owner  Jillian Johnson were both killed. 
Nine other individuals were wounded. Their ages ranged from late teens to people in their 60s, according to Lafayette Police Chief Jim Craft. At the time of this writing, their conditions range from non-life-threatening to critical.
The shooting in the Grand 16 movie theater came almost exactly three years after James Holmes killed 12 people and injured 70 others at the Century movie theater in Aurora (Colo.).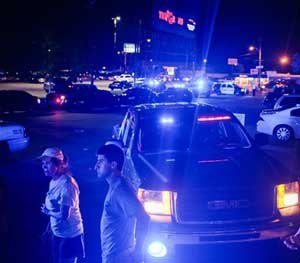 Why it's Significant: Whether or not Houser was directly imitating Holmes' attack may never be known, but we must remember that copycat attackers exist and that they imitate what they perceive to be successful attacks. Regardless of whether or not this was a true copycat, several similarities between the two incidents cannot be understated. Three parallels in particular are of note. 
1. Both men had mental health issues. Holmes was unsuccessful in convincing a jury that he was insane at the time of his shooting, but there is little doubt that the man was — and is — an unstable individual. Houser had a confluence of legal, financial, and mental problems. According to 2008 court documents, Houser "exhibited extreme erratic behavior and has made ominous as well as disturbing statements" and had a history of mental health issues including "manic depression and/or bi-polar disorder." 
2. Both men were relatively well educated. Holmes was enrolled at the University of Colorado taking graduate courses in neuroscience at the university's Denver campus. In 1998, Houser graduated from the Jones School of Law at Faulkner University in Montgomery, Ala. 
3. Both men had planned to escape. Holmes had nearly escaped after his attack, but was spotted near his pre-positioned vehicle by a cop who took the gunman into custody with little incident and no gunfire. Similarly, Houser had parked his blue 1995 Lincoln Continental near an exit — and even placed his keys atop one of the tires — but as he attempted to escape by blending into the fleeing crowd he saw approaching police officers and retreated back into the theatre where he killed himself with the .40 caliber Highpoint pistol. While some commentators contend that there's a possibility that Houser simply "snapped" during the movie and decided in that moment to kill, the switched license plates and the keys on the wheel of a car parked near the exit are indicators that this was a premeditated attack, and that he had hoped to live through it.
Top Takeaways: We can be sure that another gunman is out there, watching the news, contemplating his attack. He's trying to figure out how he can "get a higher score" than Houser and Holmes, and how — unlike those two individuals — he can evade capture. Consider these three takeaways:
1.    Law enforcement officers know all too well how toxic a cocktail you can get when you put a mentally unstable person in possession of a firearm. When you identify people on your beat who appear off, try to find a way to make contact, and make note of your observations in a report. Seek ways to prevent an attack whenever possible. 
2.    A constant supply of "clueless convicts" is the bread-and-butter of everyday police work, but cops know that it is the clever, creative, and cerebral criminal who often creates the most havoc. Never underestimate the capabilities of a person committed to violence and evil. 
3.    A speedy response time to active killers is vital for saving lives and ending the threat — even when criminals originally have an escape plan, the sound of the sirens can be the trigger event for the assailant to commit suicide.
What's Next: In coming weeks we will likely see calls for increased security at movie theaters just as had happened following the attack in Colorado three years ago. We will also probably see another resurgence of anti-gun zealots calling for stricter gun control laws. Let's address each in turn.
Following the Aurora tragedy, many theaters hired armed security as a way of telling the public they were serious about keeping moviegoers safe. In time those guards began to disappear, and the American public reverted back to a sense of complacency about their safety behind the ticket turnstiles. In time, other events will take over the top-of-the-hour news, and any heightened alert among citizens will fade back to baseline. However, officers will remain as vigilant as ever. 
Guns don't kill people. Bad guys with guns kill people. Mentally disturbed people kill people. Evil people kill people. People who illegally possess a weapon (felons, for example) kill people. It's the good guys with guns — men and women of law enforcement as well as law-abiding, legally armed CCW citizens — who put an end to the violence, one way, or another. Officers will continue to run toward the gunfire, even as everyone else runs away from it.