Rapid Response: Despite risks, solo officer active shooter response saves lives
The actions of Sgt. Ron Helus during the shooting at a California bar undoubtedly saved lives; here's what else LE can learn from this horrific attack
---
J. Pete Blair is the executive director of the Advanced Law Enforcement Rapid Response Training (ALERRT) Center at Texas State University, which was named the National Standard in Active Shooter Response Training in 2013 by the FBI. The center recently received an $8.7 million COPS grant to provide multi-disciplinary, scenario-based active shooter training to first responders across the country.
By J. Pete Blair, Ph.D., P1 Contributor
What happened: A single gunman entered a crowded bar in Thousand Oaks, California, and began shooting people with a handgun. The attacker began his rampage by shooting a security guard outside of the bar. He then entered the building and shot other guards and employees located at the front of the business and proceeded to fire at patrons.
Ventura County Sherriff's Sergeant Ron Helus and a California Highway Patrol officer arrived on scene about three minutes after the 911 call went out. They made immediate entry into the building. The gunman engaged Sgt. Helus immediately. Sgt. Helus was hit. The CHP officer pulled Sgt. Helus out of the bar. The attacker was found dead in an office near the front of the bar with a self-inflicted gunshot wound. Eleven other people were killed and several more wounded by gunfire. Tragically, Sgt. Helus – a 29-year LE veteran -- died from his wounds.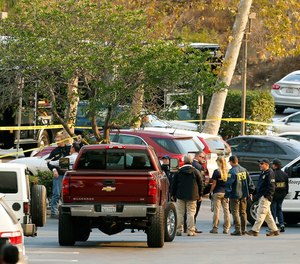 Top takeaways from the Borderline mass shooting
Active shooter attacks are tragic events that have increased in frequency in recent years. They are particularly tragic when responding officers are killed. Sgt. Helus is a hero who gave his life protecting citizens. Had he not acted, more people would likely have been killed. Here are some lessons we can extract from Sgt. Helus' sacrifice.
1.  Quick action is needed to stop attackers
Active attackers can rapidly kill people. Every second of delay creates the potential for more innocent civilians to be murdered.
Recognition of this fact has led departments in recent years to authorize smaller and smaller teams of officers to enter a scene where an active attack is happening.
Following the Columbine High School shooting, it was common for agencies to require teams of 4 or 5 officers before entry was made into an attack location. Over time, this requirement started to change as more departments realized it could take several minutes for the required number of officers to arrive, and that during that time a lot of people could be killed.
Initially the change was to allow teams of two to three officers to enter. In many locations, this was deemed to still take too long, and many agencies now allow solo officers to make entry into a location where an active attack is occurring.
As the team of entering officers becomes smaller, they give up many of the tactical advantages a larger team provides. For example, a smaller team is less able to cover the angles around them as they move through the structure, and they will not be able to mass as much firepower on a threat. Officers in small teams are deliberately assuming more risk in order to more rapidly intervene and stop the killing. It is a difficult decision for a solo officer to enter a scene to stop an attacker, but it can and has been done successfully.
Even in this case, where Sgt. Helus was murdered, it is likely his actions saved many lives. When Sgt. Helus entered, that shooter stopped firing at civilians and focused on the officer. It also appears that the arrival of police in the bar motivated the attacker to stop his attack and kill himself.
2. Active shooter response regardless of team size is, and always will be, dangerous
It may sound obvious, but this is an important point. The Advanced Law Enforcement Rapid Response Training (ALERRT) Center and the FBI have collected data on more than 280 active attacks that have occurred since 2000. Data shows that officers are frequently shot in these events. Specifically officers are injured (shot) in 13 percent of all the events we have looked at.
Some of our early data suggested that injury was more likely during solo entry, but as we have acquired more data, this appears to be a fairly constant injury rate even when more officers are present. This makes an active attack call the most dangerous call in law enforcement. Proper training, equipment and tactics can help mitigate this risk, but these situations will always be dangerous.
3. Civilian response remains important
It took the responding police officers to the Borderline shooting about three minutes to make entry to the scene. During that time, the civilians were on their own.
ALERRT's research into these events indicates that the actions civilians take during this time can have a dramatic impact on the number of people injured or killed. Law enforcement agencies should continue to train their communities in effective actions to take in these situations. ALERRT teaches the concept of Avoid, Deny, Defend:
Avoid the attacker if you can – get out.
If that is not possible, deny him access to your location. Close, lock, and barricade doors.
As a last resort, defend yourself. Don't allow the attacker to murder you. Fight for your life.
Other option-based systems like Run, Hide, Fight or Move! Escape or Attack are also good. What is important is that civilians have thought about these situations and how they should react before they are in one. Accounts from witnesses at the scene in Thousand Oaks, California, suggest that at least some people took effective actions to protect themselves before law enforcement arrived.
Going forward
Active attacks will continue to occur, and they will continue to be dangerous to both the general public and responding officers. Quick action by law enforcement is often required to stop the attacker. Sometimes, the necessary quick action will involve a solo officer making entry into a dangerous situation. This places the officer at substantially more risk, but creates the opportunity for the solo officer to save lives.
It also appears that the public expects solo officers to go into active attacks to stop the killing as quickly as possible. Consider what happened at Marjory Stoneman Douglas High School in Parkland, Florida. The first officer on scene failed to enter the school. Fourteen students and three staff members were killed. Seventeen additional people were wounded. The officer, who failed to enter, abruptly retired and was subjected to weeks of criticism by the public, media and other law enforcement.
About a month later, a shooter entered Great Mills High School in Great Mills, Maryland. He began by targeting a female student and he also shot a second student. School Resource Officer Blaine Gaskill was on duty at the school and almost immediately engaged the shooter. After exchanging fire with Gaskill, the shooter killed himself. Both of the injured students survived. The media covered this event on the day it happened, but it quickly faded from the headlines. Blaine Gaskill has been praised as a hero.
While dangerous, solo (or small team) entry can and has saved lives. The public also appears to expect officers to assume the risk.
---
About the author
J. Pete Blair, Ph.D., is the executive director of the Advanced Law Enforcement Rapid Response Training (ALERRT) Center and a professor of criminal justice at Texas State University. He earned his Ph.D. in criminal justice from Michigan State University. He is recognized as a leading expert in the field of active attacks. He has published numerous books, articles, and commentaries on active attacks, police tactics and training. Dr. Blair regularly presents on active attack-related topics to groups across the country and internationally.