Wash. mall shooting suspect ate with stepfather before attack
As the small city an hour north of Seattle struggled to make sense of the carnage, an unsettling portrait emerged of the man authorities say was the shooter
---
By Martha Bellisle and Gillian Flaccus
Associated Press
MOUNT VERNON, Wash. — A man charged with five counts of first-degree premeditated murder in the shooting deaths of five people at a Washington state mall shared an early dinner with his stepfather then told him he was headed to his job at a gym.
Instead, police say, Arcan Cetin headed to the Cascade Mall in Burlington, pulled a Ruger rifle from his trunk and opened fire in a Macy's department store, instantly killing three women and a teenage girl and critically wounding a man who died hours later.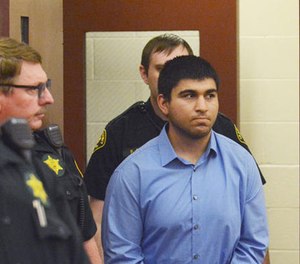 As the small city an hour north of Seattle struggled to make sense of the carnage, an unsettling portrait emerged of the man authorities say was the shooter.
Cetin, 20, of Oak Harbor has a criminal record dating back at least two years and was charged last year with assaulting his stepfather, who said his stepson suffered from mental illness.
One of Cetin's neighbors at an apartment complex said he unnerved her so much that she kept a stun gun near her front door.
On Monday, Cetin expressed no emotion when asked by a judge if he understood his rights. Bail was set at $2 million and his lawyer said nothing about his client in court and did not speak with reporters.
"It's a terrible tragedy for the community but having lived here my whole life, I believe the community is strong enough. It will recover," said Rich Weyrich, Skagit County prosecutor. "It's going to take a long time, but we will recover."
After his arrest, Cetin admitted to detectives that he was the man captured on security video carrying a Ruger rifle inside the mall, "and he did bring the rifle into Macy's and shot all five victims," court documents released ahead of Monday's hearing said.
Cetin left the rifle with a 25-round magazine on a cosmetics counter before fleeing, the documents said.
The victims ranged in age from a 16-year-old girl to a woman in her 90s and included a probation officer and a Boeing maintenance worker.
Authorities have not revealed any details about a motive, but Cetin's stepfather David Marshall told reporters after the hearing that his stepson "has mental health issues." He did not elaborate.
The court documents painted a picture of Cetin's stepfather and mother trying to help their son as he seemed to unravel.
Cetin came to the U.S. from Turkey and is a permanent legal resident, authorities have said.
Cetin faced charges last year in an assault on his stepfather after he caught Cetin smoking marijuana inside the house, according to court records.
Cetin was told by a judge last December not to possess a gun, but his stepfather urged the judge not to impose a no-contact order, saying his stepson was "going through a hard time," the records said.
Cetin had been diagnosed with anxiety and depression and has taken unspecified medications in the past, the records show.
He eventually moved out of his parents' home and the stepfather told detectives after the shooting that he and his wife had helped Cetin with his rent. Cetin said his father bought him a laptop and his mother visited him regularly at his new apartment.
She last saw him Wednesday, and his stepfather shared a meal with him in the late afternoon Friday, the documents said.
Less than three hours later, surveillance video shows Cetin entering the mall from a fast-food restaurant, walking through the shopping center and leaving through the Macy's women's department exit, police said.
He then moved his car closer to the Macy's entrance and took a rifle out of the car's trunk, the documents said.
Cameras in Macy's show him entering through the same women's department — this time with the rifle.
In the span of a minute, Cetin killed a teenage girl near some clothing racks and then walked to the cosmetics counter where he shot a man and three women, the documents said.
He was arrested nearly 24 hours later in Oak Harbor, about 30 miles from the mall.
Cetin's stepfather told detectives that his Ruger rifle and .22-caliber ammunition were missing, documents said.
Police interviewed the suspect's former girlfriend and said Sunday she has an employment history at Macy's, but not at the Burlington Mall location. They did not identify her.
Copyright 2016 The Associated Press