Report: Intruders breach US airport fences about every 10 days
Over the past year, TSA has been focused less on perimeter security than on stopping weapons that passengers or baggage handlers try to sneak onto planes
---
By Justin Pritchard and Martha Mendoza
Associated Press
Under pressure to prevent people from sneaking onto runways and planes at major U.S. airports, authorities are cracking down - not on the intruders who slip through perimeter gates or jump over fences, but on the release of information about the breaches.
A year after an Associated Press investigation first revealed persistent problems with airports' outer defenses, breaches remain as frequent as ever — about once every 10 days — despite some investments to fortify the nation's airfields. As Americans wait in ever-longer security screening lines inside terminals, new documents show dozens more incidents happening outside perimeters than airports have disclosed.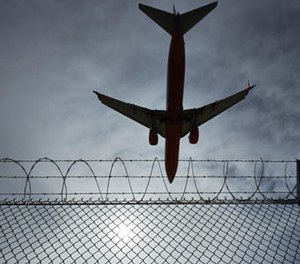 At the same time, leaders at some airports and the U.S. Transportation Security Administration are saying some of the 345 incidents AP found shouldn't count as security breaches, even when intruders got deep into secure areas.
Was it a perimeter security breach in March 2015 when a woman walked past a vehicle exit gate at San Francisco International Airport and onto the tarmac, where she tried to flag down a jet for a trip home to Guatemala? No it was not, said the airport and TSA officials, who also tried to suppress information about the case.
After discussing intrusions openly at first, officials at several airports and the TSA started withholding details, arguing the release could expose vulnerabilities.
Following a two-year legal struggle with the TSA, AP has now used newly released information to create the most comprehensive public tally of perimeter security breaches. The 345 incidents took place at 31 airports that handle three-quarters of U.S. passenger travel. And that's an undercount, because several airports refused to provide complete information.
The count shows that an intruder broke through the security surrounding one of those airports on average every 13 days from the beginning of 2004 through mid-February; starting in 2012, the average has been every 9.5 days. Many intruders scaled barbed wire-topped fences or walked past vehicle checkpoints. Others crashed cars into chain link and concrete barriers.
Airport officials point out that no case involved a known terrorist plot. Police reports suggest many trespassers were disoriented, intoxicated or delusional. Some came on skateboards and bikes, while others commandeered vehicles on the tarmac. One man got into a helicopter cockpit and was preparing to take off.
Five intruders brought knives and one a loaded gun.
Over the past year, the TSA and airports have been focused less on perimeter security than on stopping weapons that passengers or baggage handlers try to sneak onto planes.
"It doesn't surprise me that people sometimes try to jump over fences to see what they can get away with," said TSA Administrator Peter Neffenger. "The question is: What's your ability to detect it and ... what might you do to mitigate that happening in the future?"
Airport officials would not discuss how much they are spending on fortifying perimeters. Some that added security in the past year saw fewer intruders, others had more.
Altogether, there were at least 39 breaches nationwide in 2015, which also was the annual average from 2012 through 2015. The low was 34 in 2013 and the high 42 in 2012, when incidents spiked after several years hovering around 20 breaches.
Aviation security consultant Jeff Price said the TSA and airports have not done enough to address gaps in perimeter security.
"The straight-up honest answer as to why it's not being vigorously addressed? Nothing bad's happened. Yet," Price said.
Airport officials stress that the miles of fences, gates and guardhouses protecting their properties are secure and say many intruders are quickly caught.
Perimeters are not "a gaping vulnerability," said Christopher Bidwell, vice president of security at the advocacy group Airports Council International-North America. When intruders are quickly caught, "their ability to do anything nefarious isn't really there," Bidwell said. "It's being neutralized because they are actively being surveilled."
But video cameras and guards don't always spot intruders.
After eluding security and reaching parked planes at New York's John F. Kennedy International Airport, one intruder warned an airport worker in December that he "better not say" anything. Authorities never found the man, though they did arrest three others at different times in 2015, including one man who managed to drive his vehicle in with a convoy entering the airfield during a visit by Pope Francis.
The large airports with the most known incidents serve San Francisco (41), Las Vegas (30), Philadelphia (30) and Los Angeles (26). New York's JFK ranked 10th with 12 breaches.
Copyright 2016 The Associated Press