Authorities say Texas, Mo. officers shot in ambushes
At a news conference, San Antonio police Chief William McManus said Officer Benjamin Marconi was killed because he was a police officer
---
By Jamie Stengl and Jim Salter 
Associated Press
A manhunt for a suspect in the fatal shooting of a veteran Texas police detective ended Monday evening with an arrest in the slaying, which was one of several weekend attacks that authorities say targeted law enforcement in multiple states.
The San Antonio detective as well as officers in Missouri and Florida were conducting routine tasks Sunday when they became the targets of violence.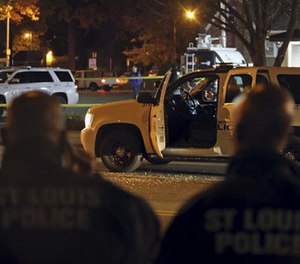 The detective was writing a traffic ticket when he was shot to death in his squad car late Sunday morning outside police headquarters.
"I think the uniform was the target and the first person that happened along was the first person that (the suspect) targeted," San Antonio Police Chief William McManus said Monday.
In Missouri, a St. Louis police sergeant was shot twice in the face Sunday evening while he sat in traffic in a marked police vehicle. The sergeant was released from the hospital Monday.
The shootings were the latest in what law enforcement officials say is an alarming spike in ambush-style attacks. Sixty officers were shot to death on the job this year, compared to 41 in all of 2015, according to the National Law Enforcement Officers Memorial Fund. Of the 60 killed, 20 were purposely targeted by their assailant compared to eight last year, the group said.
Police officers also were shot and injured during traffic stops in Sanibel, Florida, and Gladstone, Missouri, on Sunday night, but authorities have not suggested these were targeted attacks.
The shootings come less than five months after a black military veteran killed five white officers at a protest in Dallas — the deadliest day for American law enforcement since Sept. 11, 2001.
Race was a factor in the Dallas attack, but police have not said if race played a part in any of the attacks on Sunday. In San Antonio, police say the suspect is black and the officer was white. In St. Louis, the suspect was black. Police have not released the race of the officer shot. Most police slayings are carried out by white men, and most people shot and killed by police are white, said Craig W. Floyd, president of the National Law Enforcement Officers Memorial Fund.
McManus identified the San Antonio detective killed Sunday as Benjamin Marconi, 50, a 20-year veteran of the force. At a news conference Monday evening, McManus said a 31-year-old man, Otis Tyrone McCain, was arrested without incident after the car he was driving was stopped Monday afternoon on an interstate.
McManus said earlier that he doesn't believe the suspect has any relationship to the motorist who was pulled over initially.
Surveillance video shows the suspect at San Antonio police headquarters about four hours before Marconi was shot. The suspect asked a desk clerk a question but left before receiving an answer, said McManus, who declined to say what the man asked.
"I don't know why he was in headquarters. We have some ideas," he said.
St. Louis Police Chief Sam Dotson declined to name the 46-year-old officer on his force who was shot in the face Sunday evening, but said he is a married father of three who has been with the department for about 20 years.
"This officer was driving down the road and was ambushed by an individual who pointed a gun at him from inside of his car and shot out the police officer's window," Dotson said.
The suspect, 19-year-old George P. Bush III, was wanted for questioning in recent violent crimes that included several robberies, a carjacking and perhaps a killing, Dotson said. He didn't elaborate.
"We believe he knew he was good for those crimes and that we were looking for him," Dotson said. "That's why he aggressively attacked a police officer."
Police said Bush was later killed in a shootout with officers.
At least two other police officers were also shot in other cities Sunday night, but it wasn't clear whether the incidents were targeted attacks.
An officer with the Gladstone, Missouri, police department near Kansas City was shot, and the suspect was shot and killed. The officer, whose name has not been released, is expected to recover.
Sanibel, Florida, officer Jarred Ciccone was shot in the shoulder during a traffic stop, and was treated for his injuries and released. Authorities said they arrested Jon Webster Hay, 49, about 90 minutes after the shooting. They said he was booked into jail on an attempted murder charge Monday once he was released from a hospital, where he was treated after being wounded during a standoff and shootout with officers.
On July 7, Micah Johnson shot and killed five law enforcement officers who had been working to keep the peace at a protest in downtown Dallas over the fatal police shootings of black men in Minnesota and Louisiana. Ten days after that attack, a man wearing a ski mask and armed with two rifles and a pistol killed three officers near a gas station and convenience store in Baton Rouge, Louisiana. And earlier this month, two Des Moines, Iowa-area police officers were fatally shot in separate ambush-style attacks while sitting in their patrol cars.
"It's always difficult, especially in this this day and age, where police are being targeted across the country," McManus said.