N.Y. drug lord who ordered hit on parole officer gets early release from prison
Lorenzo "Fat Cat" Nichols was linked, but never charged, to the slaying of NYPD Officer Eddie Byrne, 22, who was executed while sitting in his patrol car in 1988
---
By John Annese
New York Daily News
NEW YORK — Queens drug kingpin Lorenzo "Fat Cat" Nichols will be sprung from federal prison three years early, after a judge ruled he has "in effect" served his 40-year prison sentence.
Nichols, 64, still isn't a free man, though — he has a 10-year prison sentence looming in Florida.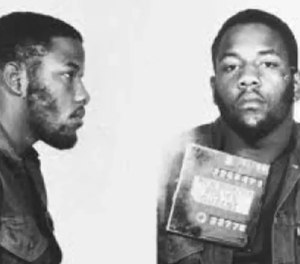 He pleaded guilty in 1992 to arranging the murder of parole officer Brian Rooney and killing two others, including his ex-girlfriend, receiving a 25-to-life state sentence and a concurrent 40-year federal sentence.
He also was linked, but never charged, to the slaying of NYPD Officer Eddie Byrne, 22, who was executed while sitting in his patrol car in South Jamaica, Queens, in February 1988.
Brooklyn Federal Court Judge Edward Korman made no specific remarks in his Friday ruling about Nichols' health or whether he thought the murderous kingpin was a reformed man.
Instead, his ruling focused on how Nichols didn't get credit for the four years he spent in state prison before Korman sentenced him in 1992.
"If I were sentencing today, I could have overcome the manner in which the [ Bureau of Prisons] calculates his release date by sentencing him to 36 years, instead of 40 years (which is the sentence I understood he would serve)," Korman wrote. "Nevertheless, for the reduction of his sentence that he now seeks, the First Step Act gives me the discretion to accomplish the same result."
That criminal justice reform bill received bipartisan support in Congress and was signed into law by then-President Donald Trump in 2018.
Nichols, who spent 34 years in state and federal prison, caught a break in 2022 when the state Parole Board agreed to his release — over the repeated opposition of the Queens district attorney's office and the police union. But he still owed time to the feds.
In an Aug. 15 letter to Korman, Nichols complained about his treatment at Brooklyn's Metropolitan Detention Center, saying he'd "developed migraines after receiving news of being incarcerated for four more years due to miscalculations and a failure to inform of a probation violation in which I was never charged, sentenced, nor knew existed."
Nichols' lawyer Richard Levitt described him as rehabilitated in a filing to Korman last month and called him a "motivating force" who wanted to try and repair the damage he's caused. In the filing, he quoted a December 2021 letter from Nichols to the state Parole Board.
[PREVIOUS: N.Y. drug lord who ordered parole officer's killing seeking compassionate release]
"The past 36 years has given me a lot of time to reflect and be honest with myself that selling drugs was no short cut to success," he wrote.
"There is nothing smart, or glorious about being a drug dealer. I now realize how young and ignorant I was; I take full accountability for my actions that left a trail of destruction and tore many families apart."
Levitt called Korman's decision Friday a "good result," adding that Nichols is looking forward to his eventual release.
"It was clear that it was [Korman's] expectation when he originally sentenced Lorenzo that he would receive credit" for time served, the attorney said. "At the time, he wasn't able to do anything about that, but now he is."
"As far as we're concerned, this chapter of his life's closed," he added.
Nichols is set to remain held at MDC until his transfer to Florida. He was convicted in Martin County in 2007 for his role in a car theft and title fraud ring, records show.
Levitt's filing suggests that Nichols may challenge that conviction, though.
He pleaded guilty in exchange for 10 years behind bars and probation for his son, who was also charged, but unbeknown to him, his son was also cooperating with authorities.
The father and his son had the same lawyer, "strongly supporting a claim that Nichols had been denied his right to conflict-free counsel," Levitt wrote.
Federal prosecutors objected to Nichols' release, notwithstanding his migraines and other unspecified health issues.
"Nichols was the kingpin of a violent narcotics enterprise and commissioned at least four murders, including the murder of the mother [of] an infant and a parole officer," Assistant U.S. Attorney Adam Amir wrote in September. "Nichols' appalling conduct overwhelmingly weighs against his release."
A spokesman for U.S. Attorney Breon Peace declined comment Monday.
"Not even a millisecond should have been shaved off this murderous drug lord's sentence," Police Benevolent Association President Patrick Lynch fumed Monday. "Our hero brother P.O. Eddie Byrne and Parole Officer Brian Rooney are not coming home any time soon. This cop-killer must not be sent home, ever."
In the 1980s, Nichols lorded over the drug trade in Queens, and police and federal authorities long believed he green-lit NYPD Officer Byrne's killing in his patrol car — though he was never charged in the slaying.
Nichols told the Parole Board in February that he took "full responsibility" for Rooney's murder, saying that he only wanted the parole officer roughed up so that he'd miss a crucial hearing. Rooney's partner at the time said he was targeted for execution because he "disrespected" the drug lord by taking him into custody on a parole violation.
"My feelings are that he should stay in custody for as long as the law allows. But if he did serve those three years pending trial, under the law that actually counts toward his sentence, and I understand that," Rooney's partner, Alan Reiter, told the Daily News on Monday.
"He caused a lot of damage, and it's sad that he's not going to spend his life in prison. But whatever the law allows, that's what he should get," he added.
"Brian got a life sentence of death. ... Nothing will bring him back. It's still very painful when I think about it."
©2023 New York Daily News.
Visit nydailynews.com.
Distributed by Tribune Content Agency, LLC.
McClatchy-Tribune News Service