Prosecutors seek death penalty for killer of Las Vegas officer
Officer Truong Thai was fatally shot while on the scene of a domestic violence call
---
By Katelyn Newberg
Las Vegas Review-Journal
LAS VEGAS — Prosecutors are seeking the death penalty against a man accused of shooting and killing Las Vegas police officer Truong Thai, according to court records.
Tyson Hampton, 24, is facing charges of murder, battery, battery constituting domestic violence, four counts of attempted murder, two counts of assault and 19 counts of illegally discharging a weapon, court records show. Hampton is accused of shooting and killing Thai, who was responding to a report from Hampton's wife that her husband was beating her, the Metropolitan Police Department has said.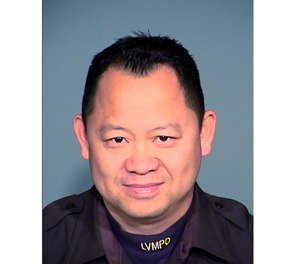 Clark County District Attorney Steve Wolfson previously said that he was considering pursuing the death penalty against Hampton. On Thursday, prosecutors filed a notice of intent to seek the death penalty, indicating that they are officially seeking capital punishment, court records show.
Hampton's defense attorney, Robert Langford, declined to comment on Monday.
Body camera footage released in November showed Thai approaching Hampton while he was sitting in a blue car near University Center Drive and Flamingo Road.
After refusing to answer Thai's questions, Hampton grabbed an AK-47 pistol from his passenger seat, police said. He fired 18 rounds, striking Thai, a Metro vehicle, Hampton's mother-in-law and her car.
One of the rounds struck Thai in his side, passing through his bulletproof vest. Thai and officer Ryan Gillihan, who was not injured, returned fire during the shooting.
Prosecutors listed 10 aggravating circumstances in the notice of intent to seek the death penalty. They include the attempted murder, assault and battery charges, along with the killing of a police officer and allegations that Hampton created a risk of death to more than one person and committed a murder to avoid being arrested, court records show.
Hampton is scheduled to appear in court again on Thursday. He remains in the Clark County Detention Center without bail.
©2023 Las Vegas Review-Journal.
Visit reviewjournal.com..
Distributed by Tribune Content Agency, LLC.
EARLIER: Head of police union says Las Vegas shooting suspect should receive death penalty for murdering officer
McClatchy-Tribune News Service