La. deputy injured in Baton Rouge ambush may lose insurance for rehab
Deputy Nick Tullier, 41, has been recovering from the injury he sustained last year when he learned his insurance company may force him to leave rehab
---
By Police1 Staff
GALVESTON, Texas — A Louisiana deputy who's recovering after being shot and almost killed in the line of duty may find himself being forced to leave rehab by his insurance company.
KHOU reports that Cpl. Nick Tullier, 41, was one of the officers injured when a gunman ambushed and killed three cops last July. Tullier was shot in the head, shoulder and abdomen but managed to survive.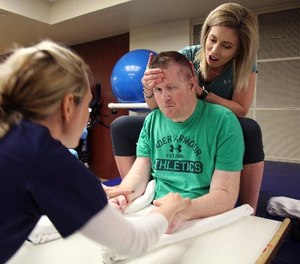 Tullier was moved to a Houston rehabilitation center to recover, where his rehab has been coming along slowly. Two weeks ago, his insurance company moved him to a less costly location in Galveston, where the family says Tullier is supposed to be for six months. But Tullier's family said they received a call from the insurance company saying they're going to stop paying for his stay at the facility.
"Within the week we get a call from insurance, 'Oh, Nick has reached his goals now, and y'all need to move him into outpatient,'" James Tullier, Nick's father, said. "We're going to stop paying for him to be in any facility. Well, we wanted to know who came up with this list of goals."
Tullier's parents lost their home to a flood and moved into an RV close to him, making finding a location for Tullier's outpatient care difficult. He has another week before he has to move.
Tullier's parents will soon have a new, handicapped-accessible house for Tullier to stay in, which was a gift from a Houston officer, who also survived from being shot.
UPDATE:
EBRSO Sheriff Sid Gautreaux released a letter addressing the agency's policy and the lengths they have gone to take care of Tullier as he continues his recovery. You can read it in full below.