Cops help capture emu on the loose in Mass. town
Patrol officers and animal control officers worked together to corral the flightless bird, authorities said
---
By Allison Corneau
The Eagle-Tribune, North Andover, Mass.
HAVERHILL, Mass. — People spotted an emu on the loose near Walnut Square School Wednesday morning, but Liberty Mutual Insurance wasn't filming its latest commercial there.
One of the tall, unusual birds was indeed roaming the neighborhood on its own.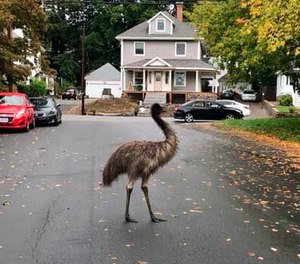 Haverhill police spokesman Capt. Stephen Doherty said a call came in at 9:16 a.m. for an "emu running toward Walnut Square (School)."
The bird later took strides on its long legs over to nearby 17th Avenue, where it was met by police and animal control officers, eyewitness Brianna Smith said.
"Animal Control called all the farms in Haverhill and it didn't belong to any of them," said Smith, who lives in Bradford and was visiting relatives on 17th Avenue. "The animal control officer Michelle (Cannon) and police officer (Christopher) Landers handled it (the situation) very well."
In a social media message, Haverhill police said the emu was safely captured by Cannon as of 11:30 a.m.
"In her decade plus of service to the City of Haverhill, Animal Control Officer Cannon has responded to incidents involving a wide variety of animals, from common domestic animals to moose and bear," the post read. "Earlier this morning on 17th Avenue, she added an emu to that list. With the assistance of patrol officers and the MSPCA, the bird was safely corralled."
A humorous Liberty Mutual TV commercial features a police officer who has an emu as a partner.
Emus are the second largest bird by height in the world, commonly reaching slightly more than 6 feet tall. The ostrich is the tallest bird.
Emus can run up to 31 mph, but cannot fly. They make grunting and booming sounds. They are not known to be aggressive toward people. If cornered they kick to protect themselves.
©2020 The Eagle-Tribune (North Andover, Mass.)
McClatchy-Tribune News Service