Fla. man high on 'flakka' fights cop, has sex with tree
The man ran naked through a neighborhood, ripped TASER probes from his skin, and punched a cop during his arrest
---
The Bradenton Herald
BREVARD COUNTY, Fla. — A man high on flakka attacked an officer, proclaimed himself God and had sexual relations with a tree, according to a report.
Kenneth Crowder, 41, was seen running naked through a Brevard County community. He was then stopped by a Melbourne police officer and charged with resisting arrest with violence, Click Orlando reported.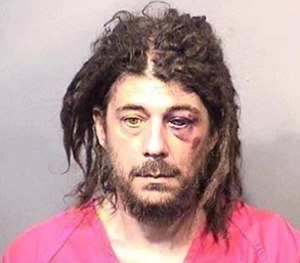 The officer used a TASER, but Crowder, who pulled the electric probes from his body, then punched the officer and tried to stab the cop with his badge, according to the report. The officer then punched the suspect, who said he was Thor.
Crowder was charged with resisting arrest with violence after police managed to subdue him. 
Flakka is a variation of synthetic substances known as bath salts and delivers a cheap, powerful high while acting as an amphetamine, according to officials. The drug can be snorted, smoked or taken by mouth and can cause violent behavior, officials said.
In 2011, federal authorities banned a number of the chemicals used in bath salts. The active ingredient in flakka, however, has not yet been banned, authorities said.
Copyright 2015 The Bradenton Herald
McClatchy-Tribune News Service