NYPD sergeant accused of throwing semen on co-worker
Co-worker claimed he threw semen on her inside of police headquarters
---
By Police1 Staff
NEW YORK — A veteran NYPD sergeant has been suspended for allegedly throwing semen on a female co-worker inside police headquarters, New York Daily News reported.
The sergeant was identified as Michael Iscenko, 54. Iscenko had previously told the victim he liked her, a police source said to the publication.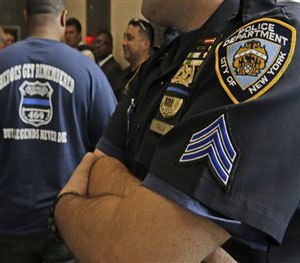 Iscenko reportedly approached the victim from behind and splashed the substance on her leg and shoe.
"She suddenly felt something on her leg, looked down, and said to him, 'What are you doing?'" a source told the New York Post regarding the January incident. "The uniformed member then walked away without responding."
The victim immediately reported the incident. Police determined the substance on her to be semen. It has not been confirmed to be Iscenko's semen.
The victim worked with Iscenko in the Organized Crime Control Bureau. The incident is still under investigation.