$22M in bonuses approved for Calif. county employees who worked during pandemic
Using funds allocated to Kern County from the American Rescue Plan Act, thousands of county workers now stand to receive $3,000 bonuses
---
Sam Morgen
The Bakersfield Californian
KERN COUNTY, Calif. — Kern's Board of Supervisors unanimously approved $22.2 million in premium pay for employees who worked during the pandemic as part of Tuesday's final approval of the fiscal 2021-22 county budget.
Using funds allocated to Kern County from the American Rescue Plan Act, more than 7,000 county workers now stand to receive $3,000 bonuses after the U.S. Treasury issues a final ruling officially authorizing such payments.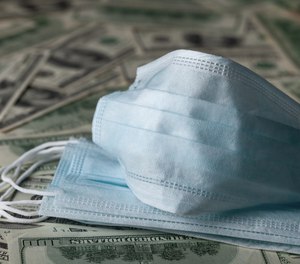 The Treasury issued an interim final rule in July and is expected to release the final rule soon.
Available to all employees hired before July 1, the bonuses are meant to compensate essential workers who could not take time off throughout the pandemic.
"It's been a long year and a half dealing with COVID. There are a lot of people who have put their personal plans aside that may not have taken time off or done anything with their families because of the lockdowns," said David Nelson, president of the local International Association of Firefighters Union. "I think guys would appreciate a little extra in their pocket to facilitate things like that once the pandemic is over."
Supervisors did not comment on the bonuses prior to Tuesday's approval. The board's unanimous approval of bonuses applied to nearly all eligible employees. Previously, supervisors had approved $3,000 payments to employees represented by the Probation Officer's Association as part of a new contract with the union.
Numerous employee groups have long pushed for higher wages, which they say would properly compensate them for higher costs of living. Citing their own rising cost of doing business, supervisors have been unable to accommodate all unions demanding higher pay.
The pandemic pay may appease some employees with a one-time cash infusion in lieu of a pay raise.
"We're at the tail end of many years without cost of living increases or raises, so any unexpected money coming our way is appreciated, and will be well received," said Tim Caughron, president of the Kern Law Enforcement Association. "Being a one-time bonus, it's just that. It's a little extra money for spending, but it's nothing that can be relied on moving forward."
The bonuses are just a small part of the $3.5 billion final budget supervisors voted unanimously to approve Tuesday. Although $147.2 million higher than the previous fiscal year's budget, the County Administrative Office warned Kern's financial situation remained precarious.
"We continue to struggle with nearly nonexistent yearly growth in property tax and sales tax revenues, the county's two primary discretionary revenue sources, while the costs associated with providing these services continue to rise," Chief Administrative Officer Ryan Alsop said during the meeting, adding state "takeaways" had removed $103 million from the county over the last 10 years.
The general fund, which finances many county services like the Sheriff's Office and libraries, rose to $1 billion, just 0.09 percent higher than the previous fiscal year.
The county will use $174.8 million in American Rescue Plan dollars to bolster its budget by plugging holes created by lost revenue and paying for infrastructure improvements.
Despite the challenges, the CAO's Office says the county is well-positioned to take on the upcoming 10 months with the finances that were approved on Tuesday.
"We have learned many lessons throughout the past year as we worked to respond to local impacts of the global pandemic," Alsop wrote in an introduction to the budget document. "While the upcoming year will have its own set of challenges, we have the experience, strategies and heartfelt commitment to dealing with these issues head-on."
___
(c)2021 The Bakersfield Californian (Bakersfield, Calif.)
McClatchy-Tribune News Service