5 critical occasions for agencies to connect with the community
Every day we have the opportunity to transform public perception through our consistent, professional service
---
By Sergeant Christopher Littrell
Growing up, I watched "The Andy Griffith Show." Not the original broadcasts, but the reruns. I loved that show. It told the story of a simpler time when the community and law enforcement effortlessly worked together to improve community safety. Sure there were problems, but the community always looked to Sheriff Andy Griffith to solve them.
Whether Sheriff Griffith and Deputy Barney Fife were an accurate depiction of small-town America I am not sure. What I do know is that law enforcement leaders, from sheriffs and police chiefs to beat cops, must recognize the importance of community relations. Relationships take time and energy to mature. If we wait until a critical incident to invest in community relations, it will be too late.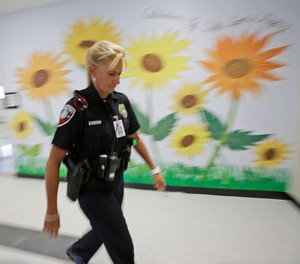 Here are five critical occasions every leader can use to improve relationships.
1. Every call, every contact
The most impactful way for officers to build relationships with the community is through consistent, high-quality police services. Every dispatched call and every citizen contact is an opportunity to build trust with individuals of the community. Victims want to know that we care about their investigation. Business owners want to see us patrolling their area. Residents want to know that we are going to do something about the problem house in their neighborhood. Everything from our response time to our professional appearance and demeanor to our thoroughness in investigations matters to the community.
I recall a drive-by shooting that occurred in April 2019. We initially only had a vague description of the suspect's vehicle. It appeared that the crime was going to go unsolved. However, officers and detectives still diligently performed their tasks of canvassing the neighborhood, listening to concerned neighbors, collecting shell casings and locating some pixelated video of the suspect vehicle fleeing the scene.
As one detective departed the scene, he saw a vehicle passing through the area that matched the description of the suspect vehicle. He performed a traffic stop on the vehicle, arrested three suspects and later recovered the handgun used in the shooting. Some might call this detective lucky – I mean what are the chances of the suspect vehicle driving back through the crime scene. I disagree. I believe this was high-quality, heads-up policing; first executing basic police investigative strategies and then paying attention to his surroundings.
At trial, the main suspect was convicted of the drive-by shooting and unlawful possession of a firearm. The suspect was held accountable, and an entire neighborhood's trust in the police department grew.
2. while attending special events
Special events serve as a great opportunity to build trust with the community. Too often citizens only interact with police officers during a personal tragedy or a traffic stop. Neither of these events create an opportunity for officers to be seen as members of the community. Special events offer a neutral location for the community to engage with their police force free from negative emotions.
The one concern I have with special events is the mindset held by some mid-level managers and officers. I have heard of these events being assigned to officers as punishment for underperformance or because they are the newest officer on the patrol squad. This mentality sets the wrong tone for the event. Instead, these events should be treated as significant moments in the organization's overall strategy to build strong community relationships.
Sergeants, assign the events in advance so officers can be ready. Also, attend the events with your officers, showing that you value the event as an important opportunity to engage the community. Officers, attend the event in a crisp uniform (not one you have been wearing for a week) and a freshly washed patrol vehicle. Bring stickers, smiles and a good attitude. This event may be the place that you develop an important relationship for the future.
Command officers and chiefs can help in two ways. First, be a filter for politically charged events. If the event could be divisive in any way, attend it yourself instead of sending patrol officers. Second, show up at events with your officers. Even if you are only there for a few minutes, line-level officers will follow your example and make these events a priority.
3. during the School day
Schools are a remarkable location to develop quality relationships with the community. Many law enforcement organizations have partnered with local school districts to assign school resource officers (SRO) to schools. In three Eastern Washington cities, SROs have offices in the schools and provide more than safety and police services for the students and staff.
Officers engage students around campus, act as mentors to at-risk students and are guest presenters in the classroom. Some officers have volunteered as assistant coaches in sports programs. The officers are usually present for significant moments like sporting events, homecoming, prom and graduation.
This is the closest relationship that the vast majority of the student body and staff will ever have with a police officer. Stop and think about that for a moment. Let that really sink in. For the majority, maybe 95% of the people at the school, this is the closest relationship they will ever have with a law enforcement officer. Their trust, or lack thereof, in police officers is going to be shaped by the way the SRO engages them and their peers.
SROs have a great responsibility and opportunity for shaping the attitudes toward police officers. So, as any great SRO already knows, smile, laugh, actively listen and do the extra work to provide high-quality police services to the school community.
4. online
Social media is another opportunity to engage the community. Chiefs and sheriffs need to formulate an overall social media strategy that is consistent with the organization's core values and mission. Countless law enforcement organizations have jumped on the social media bandwagon, recognizing its significance. The question is whether it is being used strategically or haphazardly. I have viewed a variety of police agencies' social media pages and seen a spectrum of inconsistent dry posts to inappropriately funny posts to consistent and professional posts.
To maximize viewership, law enforcement organizations must post numerous times a day. They should use the medium to tell their organization's story. Discretion should be used regarding the types of posts that are created. Risk managers and information services personnel should be involved in the process to ensure that posts are consistent with law and policy.
5. at times of Tragedy and loss
Police officers encounter loss at a much higher rate than most Americans. No one calls 911 because their child got straight As or their spouse cooked an amazing meal. Citizens call for help because of emergency, tragedy and loss. They call because they are the victim of burglary, assault and rape. Citizens call because they find their loved one not breathing or their house on fire. The way that police officers respond during these critical life events will create lasting memories for community members.
Two years ago around Christmas, my supervisor called on me to go with a rookie cop to deliver a death notification. I started by getting the details. A man in his 30s had died in an ATV accident. We needed to contact the deceased man's wife and inform her of her tragic loss.
We went to the home and observed the young wife through the open window shades, cleaning the kitchen. We knocked at the door, asked to come inside and delivered the heartbreaking news. She was devastated. The woman's closest family member was an hour away. We told her we were going to wait with her until her family arrived.
We sat in silence and offered her Kleenex and a glass of water as she sobbed. As the woman recalled funny stories of her husband, we laughed with her. We did not have any good advice, great words or special comfort to offer. We simply carried her grief for an hour.
When her family arrived, we expressed our deepest sympathies and departed. It is a memory I will carry with me into retirement. I later saw the wife post on the police department's social media page how much she appreciated the two officers who took care of her until her family arrived.
The responsibility is ours
Building trusting relationships with the community is a critical task that all law enforcement leaders, from chiefs and sheriffs to line-level officers, must make a priority. 
If Sheriff Andy Griffith was organizing this effort, I believe he would have Aunt Bee whip up a potluck and gather the community around food and conversation. He would listen and lead the conversation to better understand each other. He would remind Deputy Fife of the importance of diligently performing our tasks as law enforcement officers every single day.
Since Sheriff Griffith is not here, it is up to you and me. We are the solution. Every day we have the opportunity to transform public perception through our consistent, professional service. Are you in for it? Let's do this. 
---
About the author
Sergeant Christopher Littrell has been a law enforcement officer in Washington State for 14 years. He has had the opportunity to serve as a patrol officer, gang detective, CISM peer support group counselor, SWAT member, school resource officer, patrol sergeant and detective sergeant. Previously Sergeant Littrell served in the United States Air Force as a Security Forces member and is an Operation Iraqi Freedom veteran.