Why communities need compassionate cops: Lessons from a sympathy card
On the morning my wife's uncle died, I can't recall what the police officers told me about what had happened, but I do remember how the officers made me feel
---
By Lieutenant Aaron Spicer, P1 Contributor
"I've learned that people will forget what you said, people will forget what you did, but people will never forget how you made them feel." ― Maya Angelou
A few years ago, when my wife's uncle died unexpectedly of an untreated illness, several police officers responded to the scene and discovered him inside the apartment. Though a criminal act did not lead to his demise, I began to consider the role of a police officer in such times of emotional crisis.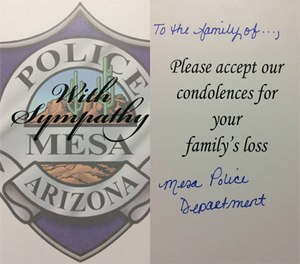 While these calls are often considered "routine" by responding officers, they are anything but for family members wrestling with the loss of a loved one.
In my 20 years as a police officer, I have responded to hundreds of death scenes, but this one was much more personal. It was family, and it impacted me on an emotional level.
Compassion shows you care
As I reflect on that morning, I can't recall what the officers told me, but what is etched in my memory bank is how the officers made me feel. The officers were caring and exhibited a conscious desire to alleviate distress for my family. Their demeanor, actions and words encompassed the very definition of compassion.
Compassion is one of the key tenets of police work that should never get lost among crime stats, the next call for service, classroom presentations, report writing, or the next assigned investigation. Compassion is a conscious state of mind that manifests as an outward display of concern for your fellow human beings. This conscious display was on my mind two years ago when I transferred to the Criminal Investigations Division, specifically overseeing both of the Mesa Police Department's Homicide Units.
For reference, the City of Mesa encompasses a footprint of over 138 square miles with a population of about a half-million, full-time residents, making it the 38th largest municipality in the United States. During the winter months, that population swells with "winter visitors" who are eager to golf and hike, unburdened by layers of clothing. With an older population demographic, the Mesa Police Department responds to around 800 death investigations per year, the overwhelming majority of those being natural or accidental deaths and suicide. This struck me as an opportunity to show a simple act of compassion to a substantial segment of the population by sending a sympathy card at the conclusion of each initial investigation.
The value of small gestures
Most people would agree that when a friend or acquaintance passes away, sending a sympathy card to the family with a short handwritten personal note expresses compassion over the family's loss. So why can't a police department – a key player in promoting the overall safety and well-being of the community – do the same thing? With that in mind, in late 2017, we launched the Mesa Police Department Sympathy Card Program.
Since the program's implementation, several hundred sympathy cards have been mailed to families impacted by the death of a loved one. Our costs are minimal. We print our police department logo on cards and mail the cards using personnel (or volunteer) hours/time devoted to the task.
Though early in the implementation, the community response has been exclusively positive and appreciative for this simple act of compassion, as evidenced by the plethora of thank-you notes finding their way into my mailbox week after week.
There is little doubt that a simple sympathy card goes a long way toward building and maintaining strong community bonds. As police departments across the country seek to improve and enhance connections with their communities, I urge other agencies to consider the outreach opportunity a sympathy card provides.
---
About the Author
Lieutenant Aaron Spicer has over 20 years' experience in police work in both Virginia and Arizona. He holds a Bachelor Degree in Criminal Justice from Radford University and a Master's Degree in Educational Leadership from Northern Arizona University, and is a graduate of Northwestern School of Police Staff and Command.  Lieutenant Spicer is currently assigned to the Mesa Police Department Training Section, however he has experience supervising personnel assigned to patrol, criminal investigations, homicide, special events, photo safety, towing, financial crimes, vehicular crimes, court liaison, community interaction, crime analysis, crime prevention and pawn units. Contact him at Aaron.spicer@mesaaz.gov.