5 lessons for police leaders who want to make a difference
Trust and respect are earned with time and effort, not the stars on your collar
---
By Chief Dean Esserman (Ret.)
When we begin our leadership careers in law enforcement, we anticipate limitless possibilities to change things for the better, whether it be internal procedures, community relations, or easing fear, crime and disorder in the communities we serve.
After more than 25 years as a police chief, and having had time to reflect on those years, there's much I wish I knew then that I know now. I hope that by sharing some of my experiences I may help others be the leaders our profession demands.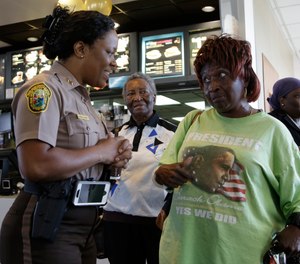 In 1983, when I became an Assistant District Attorney in New York City, the city was on fire. There were almost 2,000 murders that year – about five a day. Violent crime was rising, and the DA's office felt like we were battling a war in the city. We were aggressive, and those of us who were competitive and confrontational by nature did well. I fit right in.
I brought that same culture to my first chief's job in 1991. I was competitive, hard-charging and admittedly sometimes arrogant. I put results and accomplishments ahead of all other considerations. In other words, I focused on outputs more than outcomes. I defined winning as conquering, not calming. I thought I knew how to police. I thought I knew how to win "the war on crime."
I had a lot to learn – and I still had a lot of room to grow, as a man and a civil servant. Here are five important lessons I learned throughout my career as a police chief.
Lesson 1: The relationship between a police officer and the community is intimate and personal.
My first lesson took place in New Haven, Connecticut, in the early '90s. I was a new chief and we had recently adopted a community policing paradigm that included additional training for officers and established foot patrols.
One day, an officer who was walking the beat alone because his partner had called out sick, was knocked down while trying to stop an assault. Within minutes, other officers were on the scene. That may sound routine, but the officer didn't have the chance to call for assistance. He had fallen on his radio and broken it. The call for help came from a community member.
The next day, an elderly woman took two buses to my office to tell me, face-to-face, to never take "her officers" out of the community.
Being police does not confer legitimacy and respect from your community. It's your individual cops who cultivate trust in the uniform and the badge. Relationships are the bedrock of good policing. Only then will an elderly lady tell you those officers are "her police." That woman will never know, but my short meeting with her taught me a second lesson.
Lesson 2: The chief is not the most important person in the police department.
Officers on the street are the faces your community will come to know and trust. Agencies must be built around this truth.
We must stop talking about sending someone "down to patrol" or reassigning cops "back to patrol." Patrol is the backbone of a trusted and legitimate police department. The sooner police chiefs recognize and support this truth with the training, resources and support it needs, the sooner we will be able to mend some of the challenges we are facing.
Police chiefs must lead with humility in the knowledge that our job is to take care of the officers who are growing community relationships every day.
Lesson 3: People talk to those they know and trust.
Fast-forward to 2005 and the Providence (Rhode Island) Police Department. This department had embraced community policing, too. New officers were required to walk a beat with a partner for a year before being assigned to a car.
One afternoon, a rookie officer told me the story of how he waved to the same woman each day as she sat on her front porch. One day she called the officers over to her stoop and told them about being assaulted three months earlier. The officer asked why she hadn't said anything three months ago. She replied, "I didn't know you then, officer."
Those words became a teachable moment. Most people are not comfortable talking to strangers, let alone confiding in them, even if that stranger is wearing a police uniform. People talk to who they know, and often they do not know their police. Some will confide in a family member, a neighbor, or a religious leader before they call 9-1-1.
As chief, don't make the mistake of thinking the stars on your shoulders convey trust and authority in the eyes of your community. That trust must be earned by making time and effort to truly get to know the people you serve.
Lesson 4: Compassion and respect must guide the relationship between police and the public.
While this lesson stared me in the face throughout my career, it was never more evident than in 2020 when George Floyd was murdered by Derek Chauvin. 
Compassion and respect for all people, even those who treat police badly or are under arrest, must be the guiding principles that we teach, reflect and reward every day. Bearing witness to behavior that violates these values, even by a fellow police officer, without intervening is unacceptable.
American communities need their police. If police are to regain and maintain legitimacy, we must be guided by the shared values of dignity, respect, integrity, compassion and last of all, courage. Not just physical courage, but moral courage as well. It's the courage to protect the dignity and respect of everyone we are sworn to serve.
Lesson 5: Same goes for the relationship between chief and staff.
Over the years, I became gruff and demanding. There were situations where such behavior was called for, but they were few and far between. The problem was that this behavior had become my go-to persona and I was often seen as arrogant by my staff and peers.
While the stressors on police chiefs today are as numerous and serious as ever, chiefs must take the time to get to know their troops, to understand their issues, concerns, strengths and weaknesses. It's easy to forget what it was like as a patrol officer after the stars are pinned to your collar.
Officers are willing to go to the mat for an agency that values their input and places humanity and safety above all else. As a leader, you must put in the time and effort to communicate across your agency and convey your vision and goals. Your cops will take you there if you show them the way.
Champions of peace
Most police officers and chiefs honor their oath with dignity,  integrity, compassion and courage. They are proud of the badge and the uniform they wear. They are embraced by their communities once they develop bonds of friendship and trust.
That said, it is incumbent upon those of us who love our chosen profession to love it critically, acknowledge past mistakes and address problems head-on. After almost 40 years in law enforcement, I recognize that the old culture of being "at war" must become one of the "champions of peace." That change starts with you and me.
NEXT: The 22 leadership traits cops are looking for in their supervisors in 2022
---
About the author
Dean Esserman, JD, is the senior counselor of the National Policing Institute. He is the immediate past chief of the New Haven (Connecticut) Police Department. Prior to that, he served as chief of police in Providence, Rhode Island; Stamford, Connecticut; and the New York State MTA-Metro North Police Department. From 1987-1991, he served as the general counsel to Chief William Bratton of the New York City Transit Police. He started his career as an Assistant District Attorney in Brooklyn, New York, and as a Special Assistant United States Attorney for the Eastern District of New York.
He is a graduate of Dartmouth College (B.A.) and New York University School of Law (J.D.). He has held university appointments at the Yale Law School, Yale University, Yale Child Study Center, University of New Haven, and Roger Williams University. He is the past Chair of the IACP's Juvenile Justice and Child Protection Committee. Additionally, he is a graduate of the Federal Bureau of Investigation's National Executive Institute and the Law Enforcement in Counter Terrorism program. He is also a graduate of the Police Executive Research Forum's Senior Management Institute for Police and the United States Secret Service Dignitary Protection Program.