5 lessons learned from leading a high-functioning team
Focusing on a servant leader role allows learning to flow both ways between officers and leadership
---
Two years ago, I was appointed detective sergeant of a high-functioning street crimes team. As I prepared for this assignment, I contemplated what I could bring to the team to make it better. I believed the team was already successful, but I did not know why yet. My biggest fear was that I would somehow mess up the great work they were already doing.
I decided to approach this assignment as a servant leader, ready to learn. Here are the five lessons I learned from leading a high-functioning team.
1. STEP IN WITH ONE IDEA – KEEP PURSUING GREATNESS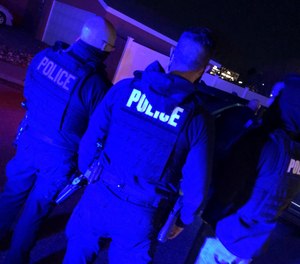 As I stepped into leading a high-functioning team, I had one desired result: I wanted our team to continue pursuing greatness. Statistics were not my primary focus, although I knew that we would be accountable for getting things done. Instead, I hoped for a team environment where detectives sacrificed for the mission and for each other. I believed that I would need to lead by example, willing to do any task, anytime, as long as it did not interfere with my commander's expectations of me.
I started by asking the detectives what they expected of me. I have asked other workgroups this question and got nothing but silence. Not with this work team. Without hesitation, they told me their expectations. They expected me to be a working sergeant. With a team of five, everyone had to contribute and be willing to do any task.
They also expected me to do my job, assigning work when necessary. They did not want the ambiguity of me asking the entire team to handle a task that really only needed a lead detective.
I leaned into these expectations. I succeeded at times. I also failed. Throughout the past two years, the detectives' work spoke for itself. Regional teams looked to our team to solve problems. On more than one occasion when dangerous felons were on the loose, our proactive team did the work to identify suspects and put them in police custody.
2. ACTIVELY LISTEN
I have core values I live by – both family core values and agency core values. An in-common value is striving for effective communication. The most critical part of effective communication is actively listening to others. This means listening with the intent to understand and empathize, rather than listening with the intent to respond.
I have found this is really difficult for me. I like to talk. I had to fight against this as I joined our team. I was not the subject matter expert, and I had a lot to learn.
I started by listening to our team roll calls. This was a good time to hear the detectives share the most recent intelligence they had learned from different technologies and confidential sources. I continued listening as I rode in the passenger seat with detectives. We operate two detective cars as we patrol, and when a detective was on vacation, I would ride with their partner. This gave me the opportunity to learn active intelligence on criminal gang and drug houses while in the field. It also gave me the chance to hear what the detectives had going on in their personal lives.
During the last two years, I have actively listened to prosecutors, officers, sergeants, command staff, regional partners and concerned citizens. These conversations have led to better criminal procedures, improved investigations and partnerships that help us get work done.    
3. CREATE SPACE FOR CREATIVITY
I quickly realized that the proactive team detectives had the potential for creativity. I saw them take the initiative to collaborate with regional detectives and teams. I heard them brainstorm investigative approaches that would help locate evidence and suspects. Their self-initiated approach made my job easier. Most of the time, I kept my mouth shut and allowed them to do their job.
However, I also realized that there were ways I could create space for creativity. Twice a month, I organized meetings with our county prosecutor to facilitate conversations about improving our investigations. Another street crimes sergeant asked if we could get our teams together for pizza and conversation. Absolutely!
I also organized a regional surveillance class that was attended by five area proactive teams. This class created space for detectives to train together, try new techniques and forge relationships with newer team members.
During some of these meetings, I simply showed up. The detectives needed me to carve out the time to allow for collaboration, but they came ready to lead the conversation. In other instances, I organized food, team-building activities and/or conversations. I would remind our team of our department mission and criminal procedure boundaries, and then I would allow them to brainstorm how we were going to get operations done.  
Law enforcement teams need to exercise the discipline of meeting. I call this a discipline because work schedules and police emergencies can cause us to cancel meetings, thinking they are an unnecessary use of time. They are not. If we never meet, we will fail at having the most creative, best thought-out plans.
The old adage that two heads are better than one plays out here. If we exercise the discipline of meeting, we create space for creativity. Some of the common spaces are roll calls, regional team meetings, trainings, social gatherings, roadside conversations and mealtimes. Some of the less common spaces are team-building exercises and retreats.
4. BE ACCOUNTABLE TO ALL
All law enforcement officers should be accountable to each other. Accountability looks different depending on our roles. As the detective sergeant for a street crimes team, I was on scene with most investigations. This meant my actions had a direct impact on the overall safety and investigative success of the team's officers. The team needed me to be on point. This required me to submit to the team and be approachable for critique.
I started by telling the team that I was accountable to them. I continued by owning any mistakes that I knew I made, whether someone saw me make the mistake or not. In one instance, I questioned myself for pursuing a criminal on foot in the middle of the night. The pursuit was short and in mostly open space. When I asked the team their thoughts, they affirmed my decision, pointing out the factors that made it a relatively safe apprehension.
Superiors being accountable to their subordinates is always a dance. It is a constant process of checking in and making sure people feel comfortable to say what they need to say. At times, our detectives were very direct in their disagreement with a decision I made. Other times, I picked up on it by the looks on their faces. This created opportunity for conversation, clarification and understanding.
5. EMBRACE PATIENCE
The single greatest lesson I learned from our team was the art of patience. I remember pursuing criminals, knowing with every ounce of my being that they were inside a residence, and our team making the decision to walk away. As the team verbalized a rapid risk assessment on the operation – the risk to detectives, the risk to innocent citizens, the risk to confidential sources and the probability of getting the suspect a different day – we realized that the time was not right.
One vivid memory I have is of our team seeking a violent criminal with gang and drug connections. We had arrested this suspect numerous times. More recently, we heard through credible sources that he was kidnapping and assaulting people. As we sat surveillance on known trap houses, we saw him come and go, usually only staying at a place for a few minutes. We even had units nearby that could have attempted a traffic stop.
The problem was we knew he would not stop, which would lead to a high-speed pursuit. The risk to the community was not worth it. Instead, we picked the time and the place. Through patient, professional investigations and through collaborating with other regional teams, we located where he was living. We used technology and effective tactics to catch the suspect off guard.
The result was arresting a convicted felon in possession of a gun and drugs. No one was injured and no property was damaged. The detectives demonstrated maturity, restraint and big-picture thinking that led to better outcomes. I learned that patient work led to safer, more effective operations.
APPROACH DETERMINES IMPACT
Leading high-functioning teams is no easy task. Leaders have a significant impact on their teams' success, in both positive and negative ways. Over the past two years, our street crimes team has continued to be highly successful because of the detectives' dedication to excellence and consistent work ethic.
I worked to create a team environment that promoted their hard work, empowered their creativity and gave them the flexibility to get the job done. I believe my most significant contributions were approaching this assignment with the knowledge that I did not know everything, and that I was willing to listen and learn and be accountable to the team.