Baltimore mayor won't say if she reviewed new police chief's internal affairs record
The City Council is scheduled to vote on confirming Darryl De Sousa as the permanent police commissioner at a time when the department is under intense scrutiny
---
By Ian Duncan
The Baltimore Sun
BALTIMORE — Mayor Catherine Pugh won't say whether she has reviewed any internal affairs records of Darryl De Sousa, the veteran officer she picked to lead the Baltimore Police Department.
The City Council is scheduled to vote on confirming De Sousa as the permanent police commissioner on Monday at a time when the department is under intense scrutiny for corruption and unconstitutional practices.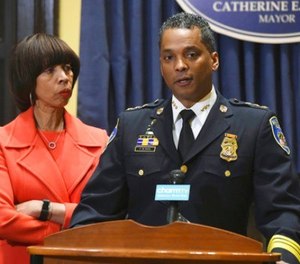 City Solicitor Andre Davis said the mayor had conducted "due diligence" in deciding to appoint De Sousa as commissioner.
"The mayor has done due diligence in her selection. I know that the City Council will do its due diligence," Davis said.
A spokeswoman for Pugh declined to comment beyond what Davis said. A police department spokesman referred questions to City Hall.
The federal criminal prosecution of members of the police department's Gun Trace Task Force has added new urgency to questions about corruption in the department, the effectiveness of its internal disciplinary system and De Sousa's ability as an insider to make changes. Eight officers were convicted in the federal investigation.
Pugh chose De Sousa to replace Kevin Davis, who she said had not done enough to tackle record rates of violence in the city last year. After a confirmation hearing Wednesday night, a council committee voted to support De Sousa's confirmation by the full council on Monday.
De Sousa, a 30-year veteran, has faced questions about his role in two fatal shooting incidents in 1995. He was cleared of any wrongdoing in both shootings. A member of the public raised one of those incidents at De Sousa's confirmation hearing.
Police internal affairs files are closely protected under Maryland law. It's not known what information De Sousa's contains or if a formal file exists.
Lester Davis, a spokesman for Council President Bernard C. "Jack" Young, said the council does not have access to such records.
Records have shown that some of the officers implicated in the federal case against the Gun Trace Task Force had faced prior discipline internally. That has led to calls for more transparency in the internal disciplinary system.
David Rocah, an attorney with the ACLU of Maryland, said it was "unconscionable" for the mayor to refuse to say whether she had reviewed De Sousa's records.
"The only conclusion that can be drawn from the refusal to answer is that she didn't review, which is also unconscionable and crazy and ludicrous," he said.
Activist group Baltimore Bloc has called on De Sousa to voluntarily release his own records to the public. T.J. Smith, the police spokesman, did not respond to a question about whether the commissioner was considering doing that.
Andre Davis said he saw no need for any files to be made public.
"I don't think that's a good idea at all," he said.
At the council hearing this week, De Sousa said he was committed to restoring trust in the department.
"Are there bad or corrupt cops in the Baltimore Police Department? Yes, there are," he said. "Are we taking measures right now to find out who they are? Yes."­
©2018 The Baltimore Sun
McClatchy-Tribune News Service