Baltimore police introducing tests to weed out corruption
The acting commissioner announced several new initiatives to address internal corruption, including the polygraphing of officers working in some units
---
By Kevin Rector
The Baltimore Sun
BALTIMORE — Baltimore's acting police commissioner on Friday announced several new initiatives to address internal corruption — including the polygraphing of officers working in some units — even as he abruptly pulled back his appointment of a deputy commissioner.
Acting Commissioner Darryl De Sousa said he put on hold his appointment Thursday of Thomas Cassella as deputy commissioner of operations — a key position overseeing the day-to-day work of thousands of officers — after becoming aware of an internal document that was addressed to him weeks ago but leaked Thursday. The document describes complaints made against Cassella a decade ago, including one accusing him of creating a hostile work environment.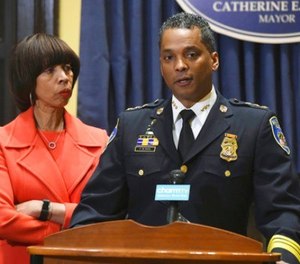 Further confusion followed with the reversal of another reported personnel decision to transfer 14 officers, including Sgt. Alicia White, an officer charged in the Freddie Gray case, to the department's Internal Affairs section. Officials said a department-wide email announcing the change was sent in De Sousa's name without authorization.
The confusion clouded a morning news conference called to announce De Sousa's reshuffling of top brass and his efforts to address internal corruption in the wake of the trial of two former Gun Trace Task Force detectives in federal court this week. During the trial, new allegations have been made of wrongdoing by at least a dozen additional police officers, including some still on the job.
De Sousa, appointed by Mayor Catherine Pugh last month after she grew "impatient" with former Commissioner Kevin Davis' inability to stem violent crime, tried to remain on message, including by highlighting significant declines in homicides and shootings in recent months.
He said the department suffers from corruption — the gun task force case "sickens me to my stomach," he said — but is poised to improve under his leadership and that of his new appointees, including Deputy Commissioner Andre Bonaparte and Ed Jackson, a retired Baltimore Police colonel and academic who is returning to fill the new department role of inspector general.
"I'm excited to get started," Jackson said, stressing his goal to introduce "just good constitutional-based policing that our citizens expect."
De Sousa announced that the department will begin administering random polygraph tests to members of some specialty units and more robust overtime audits that put "checks and balances" in place "on the front end versus the back end."
In addition to robbing residents, stealing and reselling guns and drugs and filing false court paperwork, the eight officers charged in the gun task force case were accused of making fraudulent overtime claims. Six of the officers pleaded guilty. The jury is scheduled to resume deliberations Monday about charges against the other two officers.
De Sousa said he is "evaluating" whether to take Internal Affairs out of the police department entirely and hand the responsibility over to the mayor's office. He also is considering convening an external commission to investigate the department's woes from an outside perspective.
De Sousa first announced Cassella's appointment in an interview Thursday with The Baltimore Sun, calling him a mentor. He said Cassella has the knowledge and experience the department needs to lead it to a brighter future.
Cassella, a 23-year veteran of the Baltimore Police Department, retired as a major in 2007 and went on to work in several corporate security positions, including as director of security at Horseshoe Casino in Baltimore for the last several years. He also served on Pugh's mayoral transition team.
But Friday, De Sousa said he was "not moving forward at this point to bring in Tom Cassella on board" pending further investigation into a leaked memo outlining past complaints against him.
Fox 45 reported Thursday on an internal memo — dated Jan. 26 and addressed to De Sousa from Office of Professional Responsibility Chief Rodney Hill — outlining various complaints against Cassella, including two marked "Sustained."
One was an Equal Employment Opportunity Commission complaint filed in 2006 by an officer who said Cassella had discriminated against him because of his race "and created a hostile work environment." The other was a disciplinary case alleging Cassella failed in 2003 to properly investigate an unspecified matter.
De Sousa said he was "looking at the legitimacy of" the document.
"I just need to do further investigation," he said. "I need to serve the city well. I need to serve the community well."
Cassella could not be reached for comment.
After the news conference, the department's chief spokesman, T.J. Smith, returned to a briefing room to tell reporters that "no decisions have been made" regarding Cassella's appointment.
"The fact of the matter is, we're verifying the legitimacy of the correspondence that was illegally leaked to the news, and once the verifications are made, the commissioner will make a decision," Smith said.
He said the question was whether the memo is accurate. The leak of the memo, he said, was illegal and is under investigation.
The confusion surrounding the 14 other internal affairs appointments, including that of White, was a separate concern.
Gray died in 2015 of injuries suffered in police custody. Six officers, including White, who were involved in his arrest were charged criminally, but none was convicted and none was found guilty of wrongdoing internally.
Human Resources order 171-18 was sent out to members of the agency Thursday and listed the 14 transfers, including White's, effective Friday. The order included a signature above De Sousa's name, though it says that person was signing "for" De Sousa.
The internal memo was reported Thursday by The Sun.
De Sousa said Friday White is not being moved to internal affairs.
"I did request some staff members to kind of give me some names, their thought process on who should be where," he said, but those decisions were not finalized.
Smith said the order "apparently wasn't authorized," but did not elaborate.
De Sousa reiterated his formation of a "corruption unit" to look into the allegations made by witnesses in the gun task force trial against still-active city officers.
The Sun has counted at least 10 people who fit into that category.
"I have this corruption unit that is going to specifically address any names that came up in those trials," De Sousa said.
The police department often places officers who are under investigation on administrative duty pending the outcome of those investigations, but has not done so with many of the officers accused of wrongdoing by witnesses in the trial — including convicted officers — but not charged with any crime.
For instance, former internal affairs head Ian Dombroski was accused by one of the convicted gun task force officers of offering unearned overtime to officers for good police work. Dombroski, who has denied the accusation, was among De Sousa's command appointments announced Thursday. He is to be head of the Special Investigation Response Team that investigates police shootings.
De Sousa said he understands he "cannot minimize the fact that there are corrupt cops" in Baltimore, and promised to root them out.
He also said he has created a unit among his new command staff that "is going to address any type of transfers or moving in the building" going forward.
Baltimore Sun reporter Justin Fenton contributed to this article.
©2018 The Baltimore Sun
McClatchy-Tribune News Service