Chicago police superintendent will skip President Trump's speech to chiefs
Spokesman: 'The values of the people of Chicago are more important to him than anything the president has to say'
---
Lisa Donovan
Chicago Tribune
CHICAGO — Chicago police Superintendent Eddie Johnson will be hosting the International Association of Chiefs of Police conference in town next week, but he's going to skip President Donald Trump's speech, according to a spokesman.
"While the superintendent is looking forward to leading the International Chiefs of Police Conference and he's looking forward to participating in discussions about making our communities safer, he will not be attending the speech of the president because the values of the people of Chicago are more important to him than anything the president has to say," police spokesman Anthony Guglielmi told The Chicago Tribune on Tuesday.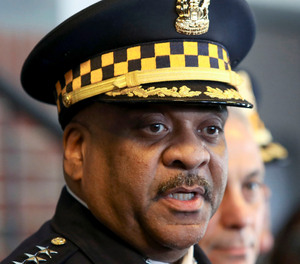 Some of that stems from the president's mischaracterization of crime in Chicago, but it's also tied to Trump signing an executive order aimed at slashing funding to sanctuary cities like Chicago — part of a wider immigration crackdown.
Chicago's status as a sanctuary city dates back to 1985 when Mayor Harold Washington issued an executive order prohibiting city agencies from inquiring about immigration status when providing services. That included police not asking crime victims or witnesses about their immigration status. It was updated in 2012 by then Mayor Rahm Emanuel who sponsored a City Council-approved ordinance dictating, among other things, that Chicago police could turn over information to federal immigration agents on immigrants only if they are wanted on a criminal warrant or have been convicted of a serious crime.
Guglielmi said crime has fallen in recent years and that Chicago is a welcoming city "to all."
Additionally, the president has slammed the Police Department's operations. Several months before the 2016 election, he famously told disgraced former Fox News host Bill O'Reilly that an unnamed Chicago police officer told him he could solve Chicago's crime problem "within a week" if he was in charge.
A year later, the president offered a slightly different version of the story — telling an audience of cops in Long Island, N.Y., that the Chicago officer, who he said was part of a motorcycle escort to the airport here, credibly told him he could clean up Chicago in "two days" if he was in charge of the police.
Then in October 2017, the president told Fox News host Sean Hannity that the unnamed Chicago motorcycle cop said that "if they let us do our job we could stop (violent crime) immediately."
The president has not revealed the officer's name.
McClatchy-Tribune News Service