Fired Chicago superintendent apologizes for 'lapse in judgment,' denies lying
Eddie Johnson said he has 'no interest in fighting a battle' over his reputation
---
Jeremy Gorner
Chicago Tribune
CHICAGO — In his first public comments since his firing, former Chicago police Superintendent Eddie Johnson issued a statement Tuesday denying he intentionally lied to the mayor or public but admitting that he made "a poor decision and had a lapse of judgment" on the late weeknight in October when he was found asleep in his running vehicle at a stop sign.
"That was a mistake and I know that," Johnson said in the statement. "I have no interest in fighting a battle for my reputation with those that want to question it now.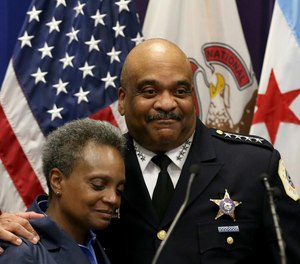 "I will simply rely on the reputation for integrity that I think I have earned during my long career, with the faith that we should all be judged by the entirety of our lives and not what happened on our worst days."
On Monday, Mayor Lori Lightfoot fired Johnson weeks before his retirement after she said she learned that the city inspector general's office had uncovered evidence that Johnson had lied about what happened in October.
Lightfoot told reporters she had reviewed the inspector general's report into the incident as well as videotaped evidence that left her with no choice but to fire Johnson.
"I saw things that were inconsistent with what Mr. Johnson had told me personally and what he revealed to members of the public," she said.
In his statement Tuesday, Johnson denied deceiving either Lightfoot or Chicago residents.
"One thing I want everyone to know is this: I did not intentionally mislead or deceive the mayor or the people of Chicago," said the statement, issued by attorney Thomas Needham on Johnson's behalf.
But Johnson did not elaborate on how his public statements in the wake of the October incident weren't false. He had blamed his failure to take his blood pressure medication, saying he felt ill as he drove home from dinner with friends.
Sources have told the Chicago Tribune that the inspector general's office, which has been investigating the incident, obtained video footage showing Johnson drinking for a few hours on the evening of Oct. 16 with a woman who was not his wife at the Ceres Cafe, a popular restaurant and bar in the Chicago Board of Trade building.
Later that night, when officers responded to a 911 call near Johnson's home in the Bridgeport neighborhood about 12:30 a.m. Oct. 17, Johnson rolled down the window on his police vehicle partway, flashed his superintendent's badge and drove off, sources said.
In his initial remarks on the incident, Johnson said he removed old medication from his weekly pillbox after his cardiologist had recently changed his dosage but that he had not yet obtained the new prescription.
"How can I explain it? It's just your body kind of gives you a warning with the high blood pressure thing that you may pass out, so I pulled over, stopped and I just rested myself until that feeling passed," said Johnson, who underwent a successful kidney transplant in August 2017.
He did not explain, however, why he was driving home from a dinner engagement at 12:30 a.m., particularly on a day he said he felt fatigued.
He also defended his driving home without being tested for whether he had been drinking, saying, "Someone asleep in a car doesn't mean they're impaired."
Johnson's chief spokesman, Anthony Guglielmi, issued a statement that same day saying that the officers who responded to the 911 call did not notice "any signs of impairment" on the superintendent's part and that Johnson drove himself home. Guglielmi also said the superintendent had called for an internal investigation on himself "because of the optics."
The next day, though, Lightfoot said Johnson had admitted to her that he had "a couple of drinks" that night.
Meanwhile, Johnson's successor, Charlie Beck, made his first public appearance Tuesday since taking over a day earlier as interim superintendent. He offered support for Johnson, saying that they remained friends "but all of us have to be accountable."
Despite the disruption of Johnson's sudden removal, Beck, who had been scheduled to become the interim superintendent Jan. 1 after Johnson's retirement, vowed "a smooth transition" as he takes on the pivotal law enforcement post before a permanent successor can be chosen in the months ahead.
Beck, who was Los Angeles police chief for about nine years, said he still plans to talk to Johnson, adding, "We have talked." But he declined to be more specific about their discussions.
"None of us are perfect. Everybody makes mistakes. But we have to live with that, and we have to live with our errors," Beck said in answer to a reporter's question at an unrelated news conference at police headquarters. "I am still the former superintendent's friend, but all of us have to be accountable. I know that. He knows that."
Asked if big changes were ahead for the department's command staff, Beck said a number of people "in very important positions" will be "retiring."
Beck said he was still considering "structural changes" to the department but didn't want to say more because he needed "more feedback" to make sure he was "on the right path."
"This will not deter the transition," he said.
McClatchy-Tribune News Service