Here's what keeps rank and file officers up at night
Do law enforcement leaders really understand what their line officers deal with on a daily basis?
---
In August 2017, the US Department of Justice Office of Community Oriented Policing Services (COPS) convened a forum of 40 rank-and-file officers to understand their perspectives of emerging trends and concerns in law enforcement. The result was a thoughtful list of ideas from a variety of individuals from different agencies that hold meaning today and for the near future. The 38-page publication of findings of the forum can be read in full below.  
Although only a small sample size, the forum was a great venue to hear from officers who do the work in the field on a daily basis.
The following key topics were addressed: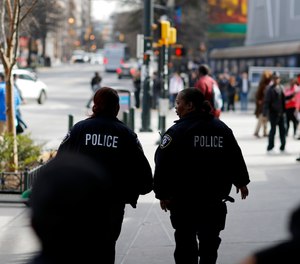 Positive image of policing;
Identifying strategies to support line officers;
Crime trends and their influence on policing strategies;
Officer safety, wellness and morale;
The goals of the forum were to elicit "experiences, opinions and ideas from the participating officers." An underlying goal was to discover and understand whether line staff and agency leaders were "on the same page" in regard to priorities and concerns.
As could be anticipated, several of the issues and concerns were not new. Topics blended and overlapped. If forums were held each decade, the same issues would be common, with variance due to the influence of technology and social media. Several of the issues focused on how misinformation or miscommunication between the police and the public create problems for line officers.
Connecting with the community
The sentiment that the public is unaware of what policing truly involves was common among forum participants, with the belief that social media, mainstream media, film and television contribute to common misconceptions about policing.
Some officers noted that counter messages should be conveyed to the public by agency leaders. The lack of outreach to the public after a critical incident or enforcement operation may contribute to a lack of trust and confidence from the community. Some mused that department fear of the public's perception of actions may affect decision-making and department policy.
Poor police-community relations may jeopardize officer safety on the street. Officers at the forum identified two separate behaviors that may lead to a disconnect between police officers and the communities they serve:
Community members operate from a place of fear and discontent when interacting with police officers;
Members of departmental leadership are often influenced by and make decisions based on external perceptions.
Possible solutions
Law enforcement leaders need to meet with the communities they serve and with the officers who work for their agency. Gaps in information between the two may be addressed by taking line officers to community meetings to hear and possibly address concerns. After these meetings, leaders need to include line officers in decision-making that affects their job in the field.
Most supported the idea that evidence-based policing practices are necessary to both support tactics, strategies and policies and help communities understand the complexities of modern policing. The evidence-based strategies would be available to help the public understand why some tactics are necessary. This would be helpful in situations where appropriate use of force is necessary but may be criticized as unnecessary. Research and statistics may be used to help the community understand how and why officers do what they do. Current areas where this could apply include community concerns about the "militarization" of the police and changes in field stops and searches.
The community may feel that officers in military-style gear and equipment connote military-style policing. Invitations to community members and the media may help them understand the benefits of military-type training to deal with critical incidents, including active shooter scenarios. Regarding field stops and searches, there may be misconceptions that New York's "stop and frisk" policy is a violation of an individual's constitutional rights. An agency that uses a similar tactic may take the opportunity to invite the public and media to a forum and explain that Terry v Ohio has been upheld by the US Supreme Court and makes communities safer when properly conducted.
The majority of officers at the forum expressed support for body-worn cameras (BWC) to help validate officer activity and verify their veracity at otherwise questionable encounters with the public. The Las Vegas Metropolitan Police Department study of BWCs was mentioned to "reduce complaints and use of force reports…de-escalat[ing] aggression or hav[ing] a 'civilizing' effect."
Strategies to Support Line Officers
The issue of disconnected leadership weaved in and out of several of the forum discussions, including the impact by leaders on officer wellness. Contributors to the discussion noted that some agency leaders do not understand the demands made on officers without support to accompany extra effort. Officers cited working long hours due to personnel shortages that can be especially magnified in smaller organizations, with officers asked to "do more with less."
Wellness was defined to include mental as well as physical health and well-being. Mental health support is far improved over recent decades. Still some spoke of a reluctance by officers to seek help for mental health issues due to stigmatization and threats to their livelihood. Officers who do not seek help relate their experiences to their peers and tend to normalize the traumas witnessed and experienced in the field. Repeated exposure to trauma and violence is not normal and takes a toll. Post-Traumatic Stress Syndrome (PTSD) was discussed as affecting officers who commonly refuse to seek treatment.
Training issues were cited as a contributing factor to officer safety and wellness. The COPs report cites that, "Participants agreed that proper training is the backbone of practical and comprehensive community policing." Many forum participants stated that a lack of funding contributed to a lack of training opportunities and to training that was effective and relevant. The value of adequate appropriate training may be lost on agency leaders who may not know what is being taught to rank and file officers.
Possible solutions
Funding and research are necessary to improve officer wellness programs and treatments for those who may experience PTSD symptoms. "Inadequate funding also limits officer's access to potentially critical mental, emotional and physical health services," notes the report.
A call was made for regular recurring training on leadership, use of force, de-escalation, crisis intervention and mental health safety for all officers, including command staff: "Law enforcement leadership should participate in the same training sessions as rank-and-file officers to equalize experience, bolster camaraderie, and ensure a shared understanding of policies and job expectations."
Although most states require updates in the form of Continuing Professional Training (CPT) for rank and file officers, agency leaders may not be required to attend. Instead, law enforcement management executives may attend administrative training, widening the gap in field activity acumen.
Scenario-based training should be given parity to the current emphasis departments place on computer skills training.  That is, equal time should be given to hands-on, scenario-based training as to training done on computers. Federal funding should be available to enable departments to train on officer safety and wellness as well as community and cultural awareness. Since the forum was made up of members from a variety of agencies, the idea that cultural awareness and officer safety and wellness are universal issues that affected almost all law enforcement agencies.
Conclusion
The emerging crime trends priorities include current issues involving prolonged social media exposure, the opioid epidemic and human trafficking. Agency leaders should meet with local area agencies and stakeholders to determine which have the most impact on their jurisdiction.
The Rank and File forum was productive in as far as revealing and confirming topics that have incredible impact on the officers who work with the public daily. Many of the topics and issues overlap and influence one another. In addition to the immediate impact on communities, issues that are left unattended may have significant future impact on your agencies most precious resource, your line officers. Government and public safety leaders should take the opportunity to meet with their officers regularly to listen, understand and support the rank and file.
Rank and File Reflections o... by on Scribd