Opinion: Cutting through the rhetoric to achieve reasonable police reform
Law enforcement should take advantage of the call for some incident types to be handled by other professionals
---
By Chief Ryan Strong
Law enforcement has been my life's work. I have been in law enforcement for the past 21 years, and I am currently serving as chief of police. I love this job.
As I will tell any young person who will listen – there's just no other job like it. Law enforcement gives you a unique opportunity to be able to help people directly daily. On any given day, a police officer could save someone's life by administering Narcan, arrest a homicide suspect, and sit down and talk with a troubled teenager. You just don't know what the day will bring. My partner and I once helped rescue a dog trapped between the furnace and the wall for an elderly resident.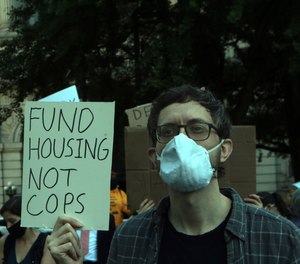 As police chief, I have many responsibilities, but one of the most fulfilling is seeing young people choose the same path that has brought me so much personal and professional joy and satisfaction. My young son wanted to be a police officer for some time. A colleague recently asked me how I felt about it. I said that I would be thrilled for him to join this profession. Despite recent events, I will look at anyone in the eye and tell them that I love this job.
As anyone with a conscience, I was disgusted and horrified by the killing of George Floyd. The suspects are rightfully incarcerated, awaiting trial. There is currently a nationwide reckoning about police use of force and other critical issues. Can anyone watch the video of police officers killing a citizen in 2020 and seriously think we do not have work to do?
When you take away the rhetoric, many of the asks of those pushing for police reform are not unreasonable:
Mandatory training on de-escalation and implicit bias. Yes, please. If your department isn't already doing it, shame on you. Making the training mandatory is a great way to let the public know that we take these issues seriously.
A database of corrupt officers. Again, yes, please. Most states already have a process to de-certify police officers, including Michigan where I work. Make the list public and easily searchable. I sure would like the public to know who doesn't make the cut to handle the serious responsibility of being a police officer.
Using other resources besides police to handle certain types of calls. This is very reasonable, given certain boundaries. For instance, in Michigan, Hegira Health (a community mental health agency) has a model that allows police officers to call Hegira Health 24/7 when they are dispatched on a run involving mental health issues. Officers arrive on the scene, evaluate the situation for safety and determine if the matter would be better served by a mental health professional. If so, officers call Hegira Health, and a team of mental health professionals responds directly to the scene to mediate and offer resources.
Anyone who has ever worked a day in a police uniform knows we are often asked to do things that have nothing to do with law enforcement. We should take advantage of this movement and agree wholeheartedly that many incidents would be best handled by other professionals.
Most of the items police reformers are asking for, we in law enforcement should embrace with open arms. That being said, calls to defund the police are simply ridiculous. We cannot become more professional and more accountable with fewer resources.
Improving police departments will require the work of both law enforcement and the community. As President Obama said at the funeral of the five police officers murdered in Dallas in 2016, "We ask the police to do too much, and we ask too little of ourselves." Law enforcement needs to realize that we have a role in police reform, and the community needs to realize they have a role as well.
We need to sift through the rhetoric and realize two truths: First, law enforcement is a noble profession. Second, we have work to do. So, let's embrace some of the reasonable reforms with the understanding that we can't encourage professionalism and accountability without funding.
NEXT: The problems with defunding the police
---
About the author
Ryan Strong is chief of police at the Wayne Police Department in Wayne, Michigan, where he has worked for 20 years. Before being chief, Ryan led the department's Investigations Bureau. Ryan has also worked road patrol, traffic and community relations. Ryan is a graduate of the Northwestern University School of Police Staff and Command. He has a Master of Science and a Bachelor of Arts in Criminal Justice, both from Michigan State University, and is a professor of criminal justice at Baker College and Ferris State University.