Philly's top cop apologizes to men in Starbucks arrest
Commissioner Richard Ross said he made the situation worse and "failed miserably" in his message around the arrests
---
By Police1 Staff
PHILADELPHIA — Philadelphia's police commissioner has issued an apology to the two men whose arrest at a Starbucks sparked outcry.
On Thursday, Commissioner Richard Ross apologized to Rashon Nelson and Donte Robinson after recently defending the officers who arrested them, NBC Philadelphia reports. Ross said he made the situation worse and "failed miserably" in his message around the arrests.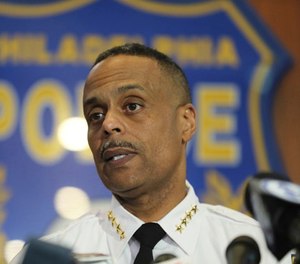 "I just think that as we work to make this city safer and better we do have to acknowledge that there are still things that we need to work on," Ross said. "It starts at the top and that starts with me. Messaging is important and I failed miserably in this regard."
The commissioner added that he is "flawed" like many people are, but "that is still no excuse." Ross said the issue of race isn't lost on him and that he shouldn't be making things worse.
Ross also apologized for not knowing Starbucks policy and that he was unaware that people don't have to purchase something to sit in the coffee shop.
Nelson and Robinson were arrested last week when a Starbucks manager called police after the two men refused to leave the coffee shop. The men said they were waiting for a business meeting at the shop, according to the Associated Press.
Video taken by a witness went viral, sparking national outcry. Starbucks apologized for the incident and said it'll include new policies on discrimination and ejecting customers.
After the incident, Ross defended his officers and said they did nothing wrong. The commissioner later said the arresting officer was mortified and was put in unfortunate circumstances.
The commissioner said the department will now come up with a policy for dealing with similar situations. Ross said one of the reasons for the change is so that officers won't be manipulated by businesses, the Philadelphia Inquirer reports.