Protest policing: The way forward – considerations for change
Nine steps to develop a well-rounded and holistic protest policing response
---
By Bob Harrison, Richard H. Donohue, Jr., Pauline Moore and John S. Hollywood
This is the final article in a series exploring the history of mass demonstrations in the U.S. and the various strategies that police have employed in response. Using lessons learned from history and recent events, we propose a path forward for law enforcement leadership to consider. We recommend you read parts one, two and three to understand the full context of the discussion.
Like the events of the past, the protests stemming from a single incident – the death of George Floyd – ignited a national movement against police brutality, and, to a broader extent, racism. Also as in the past, we have recently witnessed police adopt tactics that originally intended to maintain peace and order but instead exacerbated relations with communities and spurred violence. The mass demonstrations in 2020 were also unprecedented in terms of numbers, size and levels of violence. [1] The Major City Chiefs Association (MCCA) reported that between May 25 and July 31, 2020, there were 8,700 mass demonstrations across 68 major cities or counties in the United States.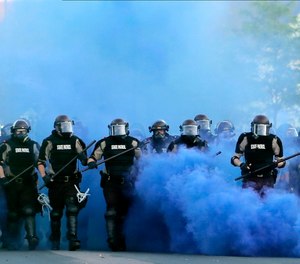 The complexities that surround protests in response to the deaths of George Floyd, Breanna Taylor, Daunte Wright and others, and the police responses to related protests, are unique to this moment in time. On the one hand, the sheer size of the crowds and scope of the demonstrations are unprecedented. On the other hand, violence from fringe actors may well present an even greater threat to communities and their police than in the past.
For example, actual or attempted acts of arson against police precincts in Minneapolis, New York City and St. Louis might be representative of escalations in fringe violence when we compare today's context to more recent periods of active political contention in the U.S. Threats of violence and property damage from fringe actors also pose separate risks to local communities. Nevertheless, looking to the past presents us with options for a promising way forward.
A policy of overwhelming force to dissuade protests from becoming violent is not the answer. This is because groups that seek to disrupt peaceful protests and push them to become a riotous mob can use the military presence and perception of police oppression to do so.
Escalated force as a primary tool also falls short as a means to respond to protests. In the past, those protesting wars and social and other injustices were generally united, and the police could deal with members of their groups who took things too far. Today, extremists on the left and right might welcome escalating levels of force by the police.
While a minority of these more radical elements can be loosely tied to disorganized and decentralized networks such as Antifa or boogaloo movements, national law enforcement agencies have concluded that "most of the violence appears to have been driven by opportunists" who lack any meaningful association to organized groups. [2] It is therefore critical that police responding to protests recognize that fringe elements are driving much of the violence we are seeing on the streets; law enforcement strategies and tactics that impose a common fate on all protesters are likely to backfire.
An ineffective way to manage protests would be to wait for them to occur, and then suit up in tactical gear in case they turn violent. A better response would be to engage in a process of tactical pre-planning and then to deploy police in a command-and-control structure that effectively manages resources by allocating staff where and when needed in response to violent fringes. Such a strategy can directly address and dampen violence or property damage as it occurs.
Moreover, early and consistent communication between police and protesters is critical both before and during protests, even when communication is challenging due to the often disorganized and decentralized structure of protest events. Extensive communication between the two groups can help protest organizers control the crowd themselves internally, precluding the need for external police control.
Police can also make efforts to inform nonviolent protesters continuously during an event that they are breaking the law, giving them opportunities to desist and relying on arrests only as a last resort. In short, many of these elements should be incorporated into a more well-rounded and holistic protest policing response.
Based on this body of knowledge, we suggest an improved array of tools, including:
Understand that all policing is ultimately local, and police leaders must work to establish and maintain positive relationships across communities, especially communities of color.
Police should develop in-house expertise to forecast, assess and plan for the future, with a specific focus on events that could evoke protests or incite violence.
The negotiated management model should be used whenever protests are on the horizon. The police must reach out to groups and work to create outcomes that can benefit the protesters, the police, and the safety of their communities. Special efforts to bring community members into the planning for demonstrations should be made. [1] When it is not possible to do so directly, it could be done through intermediaries such as clergy members and influential members of the community.
As the likelihood of a protest emerges, command-and-control planning must take place. Skills in this area can be developed over the course of tabletop exercises and simulations well in advance of its use in the real world. Strong structures of planning and deployment can also support a softer, but scalable, response that can police a protest without officers becoming a focal point via an appearance of being "ready for a fight." Officers must be given clear guidelines for the limits of their acceptable response and associated tactics. [1]
To police a protest, departments should consider how their officers will appear physically to protesters and when it is appropriate to transition from police officers to riot control officers donning tactical gear. Officers dressed as if they are "preparing for war" are susceptible to a "scenario fulfillment" mentality, finding a fight where they anticipate one to occur. The police should consider how their initial response might be less intimidating and then scale subsequent responses to match actual actions carried out by those in the crowd. This would be in line with the graded response where officers are staged in riot gear out of sight to deploy if necessary, while front-line officers are dressed in regular uniforms. [3]
As police identify instigators of violence, they should turn to a strategic incapacitation approach to remove violent actors from the protest and lawfully deal with their criminal behaviors. In dealing with mass arrests, warnings and communication with those involved are critical, as is the ability to document the situation and process violators. [4] Further, officers should be careful reacting to violence and agitation and respond to specific threats appropriately. As noted, most violence at protests appears to be the work of lone provocateurs, not the majority of protesters. It is vital not to take the bait of the violent few if at all possible to prevent the safety situation from deteriorating.
If a protest does degrade into a riot characterized by violent crime, property destruction and general lawlessness, police should consider turning to an escalated force response as a last resort. Pre-planning and communication with additional law enforcement agencies, as well as the National Guard, is key to using this tactic effectively.
Agencies should also assess their guidelines for the use of less-lethal weapons such as tear gas, given the controversies these tactics generated during the 2020 demonstrations. [1] The use of less-lethal weapons absent a compelling cause can turn public sentiment against the police even if the general public is not sympathetic to the demonstration or its participants.
Finally, it is important to understand the changing views of Americans regarding protests and the ways police respond to them. When police protest tactics do not generate fear among members of the broader public, communities are more likely to support supervisory, rather than repressive, protest policing. [5] This would mean creating a border to minimize disruption to the public, with very low levels of support for the use of less-lethal force. Managing public fear about a protest may be key to lowering levels of tension between the police and protesters, given that a more fearful populace (or one with greater racial animus) may more strongly support uses of appropriate force by officers if the protest has degraded into criminal activity. [5]
In the aftermath of a well-officiated sporting event, people almost never talk about the umpire or referee and how well they managed the game. Fans almost never notice the correct call, even one made in near-impossible conditions. Police responding to popular protests play a much larger role, in a game with much higher stakes than a sports official. The ideal outcome, however, is consistent across the two scenarios. The best police response to a protest or demonstration is one where police are present and people notice them, but they do not become the focal point of the day. Preparation, negotiation, and appropriate command and control are the best ways to make that happen.
References
1. Police Executive Research Forum. (2022). Rethinking the police response to mass demonstrations: 9 recommendations. Washington, D.C. Police Executive Research Forum.
2. Hesson T, Hosenball M, Rosenberg M, Heath B. (June 3, 2020). US assessment finds opportunists drive protest violence, not extremists. Reuters. 
3. Maguire ER, Oakley M. Policing Protests. Lessons from the Occupy Movement, Ferguson & Beyond: A Guide for Police. 
4. Police Executive Research Forum. (2018). The Police Response to Mass Demonstrations. Promising Practices and Lessons Learned. Washington, DC: Office of Community Oriented Policing Services.
5. Metcalfe C, Pickett JT. (2021). Public fear of protestors and support for protest policing: an experimental test of two theoretical models. Criminology 2022, 60:60-89.
---
About the authors
Bob Harrison is a retired police chief who is an adjunct researcher with the non-profit, non-partisan RAND Corporation. He is also a course manager for the CA POST Command College. Bob consults with police agencies in California and beyond on strategy, leadership and innovation. 
Richard Donahue is a policy researcher at RAND's Boston office. His primary areas of research focus on homeland security and law enforcement issues, including training, police-community relations, and recruitment/retention. Donohue has led Homeland Security Operational Analysis Center projects and tasks on law enforcement firearms qualifications, workforce assessments, and terrorism/targeted violence data evaluations. He is currently a member of the International Association of Chiefs of Police Education and Training Policy Council and has recently published in Policing: An International Journal and the International Journal of Police Science & Management.  Prior to joining RAND, Donohue retired as a sergeant from the MBTA Transit Police Department, where he was awarded the George L. Hanna Medal of Honor and was recognized as a 2014 "Top Cops" recipient.
Pauline Moore is a political scientist at the RAND Corporation and a professor of policy analysis at the Pardee RAND Graduate School. Her research focuses on terrorism, insurgency, security cooperation and security force assistance, and targeted violence prevention. The regional focus of her work covers Africa, Europe, and the Middle East. She is the author of The Politics of Terror (with Erica Chenoweth; Oxford University Press 2018) and her research on foreign fighters has been published in the Journal of Peace Research.
John S. Hollywood is a senior operations researcher at the RAND Corporation, where he conducts decision science research in the areas of criminal justice, homeland security, and information technology. He is an internationally recognized expert on the use of machine learning in policing and criminal justice technology more broadly and is commonly interviewed on these topics.