San Diego County sheriff rejects stricter rules for housing transgender people in jails
Officials: Revision "would do nothing to redirect other agency arrestees, failing to ensure officers take arrestees to a facility that aligns with their gender identity"
---
By Jeff McDonald
The San Diego Union-Tribune
SAN DIEGO — San Diego County Sheriff Kelly Martinez won't implement a recommendation to tighten rules for booking transgender people into county jails that coincide with their gender.
The Citizens' Law Enforcement Review Board, or CLERB, recommended last year that the current policy be revised "to mandate that an arrestee shall be taken to a facility that coincides with the arrestees' gender identity."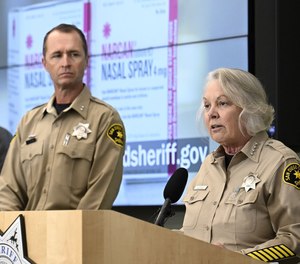 But in a letter released late Thursday, sheriff's officials said they would not be changing the policy because no change is needed.
"The department believes CLERB's desired outcome, properly booking and housing all transgender arrestees, has already been met," they said. "Therefore, we will not be amending Field Operations Manual Policy 25."
The letter was dated Jan. 31 and signed by Lt. Edward Greenawald of the department's Division of Inspectional Services.
Greenawald also noted that the existing policy calls for deputies to "receive, evaluate, house and provide secure, safe and humane custody of all persons, including transgender, intersex and nonbinary," who are booked into San Diego County jails.
The policy says: "An arrestee should be taken to a facility that coincides with their gender identity."
Greenawald said the suggestion to change "should" to "shall" also was rejected in part because most of the 48,000 people booked into county jails in 2021 were not arrested by sheriff's deputies.
The proposed revision "would do nothing to redirect other agency arrestees, who account for roughly 75% of all bookings, effectively failing to ensure officers take arrestees to a booking facility that aligns with their gender identity," he wrote.
The review board made the recommendation last year, after The San Diego Union-Tribune reported on a lawsuit filed by a transgender woman who was severely beaten while being held in the Men's Central Jail.
Kristina Frost said in her 2021 lawsuit that deputies placed her in a cell with three men even though she, her driver's license and her public presentation and dress all identified her as a woman.
She was seated and asleep when she woke up to a beating, she said.
"Sadly — and foreseeably — one of the men in the cell viciously attacked Ms. Frost," her federal complaint stated. "His closed-fist punches to Ms. Frost's face resulted in serious bodily injuries, including a broken jaw, so far requiring two surgeries to repair."
The lawsuit also alleged that Frost should not have been booked into custody, and that after the assault she was forced to wait up to 12 hours without medical care.
"She was in excruciating pain from her injuries the entire time she waited," it said. "And because her jaw was injured, she could not eat food or even drink water while she waited."
The Sheriff's Department did not initially respond to requests for comment on the allegations. But hours after the November 2021 story was posted, officials issued a statement appearing to blame Frost for her injuries.
"The person who allegedly assaulted Miss Frost stated he was assaulted by Miss Frost first and stated he acted in self-defense," department spokesperson Lt. Amber Baggs said at the time. "Additionally, Miss Frost declined to press charges."
[RELATED: Transgender inmates: Treating them fairly, keeping them safe]
A settlement of her lawsuit is likely to add to the millions of dollars San Diego County taxpayers have spent in recent years to settle wrongful-death, excessive-force and other claims against the department.
According to court records, the plaintiff and defendants agreed this week to a settlement proposed by the judge. Details will not be publicly disclosed until the county Board of Supervisors approves the payment.
"The settlement is conditioned on county board approval, which won't happen until later this month," said Trenton Lamere, one of Frost's attorneys.
The decision is the latest spurning of the civilian oversight board by the newly elected sheriff, who was sworn in early this year after winning the November election.
Last month, Martinez rejected a recommendation to screen employees and others for illegal drugs when entering county jails as a way to reduce in-custody overdoses.
The department has been plagued with an escalating mortality rate, including fatal overdoses. Earlier this month, a veteran deputy was arrested for allegedly bringing cocaine onto jail property.
Martinez also declined to release internal reviews of critical incidents despite her campaign pledge to do so, and despite a recommendation from the oversight board.
The county Citizens' Law Enforcement Review Board is a group of volunteers that examines complaints against sworn personnel at the sheriff's and probation departments. It also investigates shootings by law enforcement officers and in-custody deaths.
Even though the board members are volunteers, the office is staffed by professionals and supervised by executive officer Paul Parker, a former police officer.
The review board's decisions are strictly advisory. The panel is not authorized to mete out discipline or change policies; rather, it issues recommendations that the sheriff and chief probation officer are free to adopt or reject.
©2023 The San Diego Union-Tribune.
Visit sandiegouniontribune.com.
Distributed by Tribune Content Agency, LLC.
McClatchy-Tribune News Service