Ex-Cleveland cop who robbed people during traffic stops gets 30 months in prison
Alfonzo Cole and his partner, Willie Warner-Sims, pleaded guilty last month to four counts of robbery and theft in office, both third-degree felonies
---
By Cory Shaffer
cleveland.com
CLEVELAND — A former East Cleveland police officer who stole three guns and thousands of dollars from people he pulled over is headed to prison.
Alfonzo Cole, 35, was led out of court Monday in handcuffs after he was ordered to spend the next 30 months behind bars alongside the types of people he once took an oath to arrest.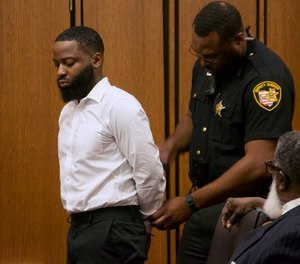 Retired Cuyahoga County Common Pleas Court Judge Timothy J. McGinty also fined Cole $40,000, the maximum fine he faced under the law. McGinty also ordered Cole to repay his victims for the $9,850 he pocketed from them.
McGinty said that Cole's actions robbed people who live and work in East Cleveland — a community that has long dealt with high rates of crime and poverty — of their semblance of security. The former officer also undermined police officers who were dedicated to their jobs, the judge said.
"To find out that the officer that's there to protect you is also conducting robberies, that's pretty scary," McGinty said. "That shakes you right to your foundation."
The judge also agreed to order state prison officials to place Cole in protective custody because he was a police officer. Cole will remain in the county jail in the meantime, McGinty said.
Cole and his partner, Willie Warner-Sims, pleaded guilty last month to four counts of robbery and theft in office, both third-degree felonies. Cole's plea deal called for a recommended sentence of 30 months in prison.
Cole told McGinty that he accepted that he was going to prison.
"I made a series of bad decisions," he said. "I've lost family members, my career, pretty much my entire life."
Cole also agreed to forfeit his state police officer's license.
Cole is one of 18 police officers who have been charged with committing crimes while working for East Cleveland's department. The cases stem from a yearslong investigation into the department. He is the first to be sentenced.
Warner-Sims is set to learn his sentence Thursday. He faces a recommended sentence of two years in prison.
"This is like something you see in movies that [you think], 'Can this possibly happen in real life?'" Assistant Cuyahoga County Prosecutor Andrew Rogalski said after the hearing.
He said he was thankful the men's victims came forward.
"From a prosecutor's standpoint, this isn't a triumphant day," he said. "However, it sends the message that this type of behavior deserves accountability, and it shows that nobody's above the law, including police officers, and that nobody's below the law, either."
Cole carried out each heist by first conducting a traffic stop for a minor violation — three of the four stops began for a tinted window violation, Assistant Cuyahoga County Prosecutor Mary Grace Tokmenko said during the hearing. Cole then would claim that he smelled marijuana and searched the vehicle. He then pocketed the guns, drugs and cash, Tokmenko said.
Cole did not file a report or turn on his body camera for any of the incidents, she said.
The investigation into Cole began in July 2021, when a man went to the East Cleveland police department and told a supervisor that Cole and Warner-Sims stole $5,000 from him during a traffic stop that began for tinted windows.
The man had an open bottle of alcohol in the car, and the officers ordered him out of the car and patted him down. They took $9,000 in cash the man had in his pocket and gave him back $4,000, prosecutors said. Cole and Warner-Sims did not turn on their body cameras during the interaction and did not file a report. They wrote the man a ticket for a tinted window and told him he was free to leave.
The man told investigators he was on his way to a funeral home to pay for his grandmother's service and showed a bank withdrawal receipt from just before the stop.
Warner-Sims later told investigators that he asked Cole why he didn't give the man back all of the money. Cole replied, "This is what I do."
Three days later, the sheriff's department got a search warrant for Cole's apartment and found two pistols that Cole had stolen from other drivers, as well multiple other guns and a bag of marijuana.
Cole stole guns from an 18-year-old man he pulled over on June 22, 2021. He told the man, who was driving his mother's car, that he pulled him over for tinted windows and smelled marijuana in the car. Cole made the man and his 10-year-old sister, who was in the passenger seat, get out of his car while Cole searched it and found a 9 mm pistol under the seat. Cole simply wrote the driver a ticket for tinted windows.
Cole kept the gun, authorities said.
The man's mother later went to police and reported that the gun was hers and that she accidentally left it in the car.
That same day, Cole pulled over a mechanic who was on his way to buy a van for $4,000 cash. The mechanic had a handgun and a small amount of marijuana in his car. Cole took the money, a gun and the marijuana and wrote the driver a ticket.
The investigation also revealed that Cole stole $800 and marijuana from a man in September 2020. Like the other cases, Cole pulled him over for a tinted window violation, then searched his car. The man was on parole at the time and worried that he would go back to prison for the drugs, but Cole wrote him a ticket and let him go.
That man said he told his neighbor, who was an East Cleveland police sergeant, about the interaction.
Defense attorney Rufus Sims noted that Cole's life up until his criminal behavior read like a success story. He and his siblings were abused by their mother's boyfriend and ultimately taken from their home and placed in foster care. Cole dropped out of school after 11th grade but later got his GED from Cuyahoga Community College and chose to pursue a career in law enforcement.
"He was doing all the right things," Sims said. "However, he made some very, very poor, horrible and bad decisions that have cost him dearly."
©2023 Advance Local Media LLC.
Visit cleveland.com.
Distributed by Tribune Content Agency, LLC.
McClatchy-Tribune News Service