Quick Take: Understanding FirstNET
The network separates public safety communications traffic from commercial traffic and supports functions like priority and preemption
---
AT&T's launch of FirstNET one year ago brought public safety's specialized communications platform to life, making significant communications advancements for first responders. During that time more than 7,400 agencies have signed on to FirstNET, as of May 1, 2019. Users include agencies from all 50 states and Puerto Rico who have made more than 620,000 FirstNET connections.
At the 11th annual California Mobile Command Center Expo held April 18 in San Francisco, Abigail Baker, FirstNET Territory Manager for AT&T, and Chris Baker with FirstNet Authority, were invited to provide an updated presentation on the previous year's class, "All About FirstNET."
Both presenters explained how FirstNET is configured, how it works and how agencies can use it.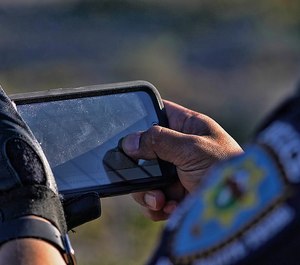 The network separates public safety communications traffic from commercial traffic and supports current FirstNet functions, like Quality of Service (QoS), priority and preemption. This allows first responders to maintain access to critical communications resources at all times to ensure connectivity and capacity by allowing them first access to necessary resources through the automatic preemption capabilities of the network.
Who Can Use FirstNET?
The speakers described how the system is dedicated to public safety, which restricts its use to the following "Primary Users":
Fire/rescue departments;
Law enforcement;
EMS;
Emergency management agencies (EMAs).
But FirstNET also recognizes that allied and support organizations may qualify to use the network on a temporary basis when they are called to assist Primary Users. The category "Extended Primary" permits the following users to access the platform when necessary through a monthly fee:
Healthcare;
Utilities;
Transportation;
Other public services.
The following four takeaways can help local governments and their public safety and emergency management agencies to best understand and approach access to the developing network.
1. There's a Bring Your Own Device (BYOD) Option
FirstNET is an agency paid broadband communications service, in which user agencies are charged for the service, with a variety of rate plans.
Subscriber paid plan – FirstNET also offers this alternative for agencies without the funds or budget to pay for broadband connectivity, where personnel own their own devices, using them for both personal activities and emergency work.
FirstNET supports a wide variety of smartphones, laptops and other devices.
2. A Local Control Interface is FirstNet's Front Page
This is a centralized administrative hub designed to provide users with easy and secured access to account information.  "Local Control" is the user's front page for FirstNet. This allows users to:
Access Local Control with Single-Sign On (SSO), which allows users to access network resources and other secured destinations without having to continually enter passwords, or a federated SSO option, which allows users to federate their identity provider to log-in with their existing credentials and gain access to authorized applications and resources;
View network status and usage;
Manage users and group access;
Manage Uplift (ability to elevate devices to the highest level of priority for incident management), Push To Talk Administration and Control Center;
Check service & billing;
Quick access to FirstNet apps through the FirstNet App Ecosystem.
3. Cybersecurity is Baked In
The FirstNet dedicated core leverages all existing security capability to help ensure sensitive data and the network stay highly secure. It is composed of:
FirstNet Highly Secure Separate Core;
Dedicated Security Operations Center with 100+ dedicated professionals;
Private Mobile Connection (i.e. Custom APNs) Net Motion Mobile VPN;
Single Sign On and ICAM (identity credential and access management; see #2 above);
Enterprise Mobility Management;
4. Customer Support is Always Available
FirstNet offers dedicated customer support through a dedicated, U.S.-based support center, reachable by just one 800 number and available 24/7/365.
Agents have public safety centered user experience;
Customer support is accessible via multiple platforms.