6 steps to hosting an effective community meeting
The "sage on the stage" is not a posture designed for listening, but a barrier of separation
---
American policing hasn't come out of the trough of disrespect and suspicion but there is good news. Recent studies on the use of body worn cameras, trust of police and racial bias in use of force have vindicated the profession on many levels. But building, or rebuilding, positive connections with the communities we serve remains a constant challenge.
One way to interact with the community is through police-community meetings. These can go horribly wrong and be counterproductive. Chicago Tribune reporter Lolly Bowean recently attended a neighborhood meeting where she lives where police were asked to address recent criminal activity. Her mission was personal. A neighbor had been murdered.
Here are some of her observations: "Yes, there had been a murder and a separate shooting, one of the higher-ranking police officers told us. But compared with some other Chicago neighborhoods, crime was not that bad. Another police community engagement liaison explained that because of how the law works, the police essentially have their hands tied and for various reasons can't address our concerns. When one of my neighbors stood and offered the address to a home that had drug activity and homeless people squatting, the police liaison told him that just because he thought it was a drug house doesn't mean it is. The officer didn't make any promises to investigate. When another neighbor told them about a sidewalk being crowded by loiterers, the spokesman explained that loitering isn't against the law and trespassing is difficult to prove. When a new homeowner stood and spoke about his efforts to install cameras around his property, the officer told us that even if we had surveillance footage, it was useless unless a person was actually behind the camera and willing to appear in court."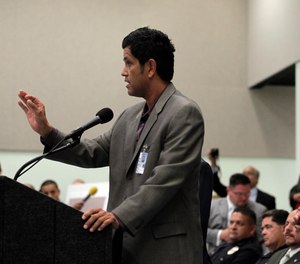 Those of us who have sat in those police leader positions and been put on the defensive, accused of inaction, unwilling to make promises we can't keep, and communicating our own frustrations with the culture and the legal system, may easily understand the difficult position these Chicago officials are in. But this meeting, perhaps like many in your world, did little good and some possible harm. Make your community interactions better by following these principles:
1. Small groups are better than large crowds
Large audience venues can be plagued by poor sound systems, disruptive people in the crowd, and lack of connection between speakers and community members. Multiple meetings with smaller groups – especially select stakeholders and community influencers – offer opportunity for better interactions.
2. Tables are better than platforms
When I see pictures of a uniformed officer behind a podium addressing a group, I see a lost opportunity for connection. It may be second nature to set up a room the same way our classrooms were set up at the academy or in the briefing room or press conference but the "sage on the stage" is not a posture designed for listening, it is a barrier of separation.
Sitting around a table or a circle of chairs at the same level of those with whom you are interacting helps equalize the parties. Avoid the temptation to be at the head of the table. If you're there to listen and answer questions, you don't have to be in charge. A moderator can be helpful in defining and phrasing the discussion. The dynamics of the presence of media at a small event is likely to have much more positive results than media at a large event.
3. Positives are better than negatives
Avoid any verbiage that implies nothing can be done. Instead of saying, "We have no control over that," try, "We can have a conversation with the prosecutor about that." Instead of saying, "We can't do anything without evidence," try saying, "We will devote some investigative resources to examine that. If anyone knows of additional information, please contact me at this number."
4. Solutions are better than problems
You may be just as frustrated as your citizens about conditions in your community and lack of cooperation from political leaders, the justice system and lack of resources. But the way to be viewed as problem solvers in our communities is to solve problems, not create excuses. Expressing hope and encouragement instead of stooped shoulders and sighs will build trust as you look for creative solutions to the challenges your community is asking you to address. Asking for solutions with an open mind without swatting down audience member's ideas with why their ideas won't work or why it's been done before and failed can start a productive discussion about what can be done and by whom.
5. Listening is better than talking
The chief or meeting leader should focus on listening and facilitating discussion, so have another officer or LE staff member focus on taking notes.  Ask for clarification. Get examples. Make immediate phone calls to get or convey information. Ask what end results are desired. Review the main points. Ask if anyone was unheard or if anything was unsaid. Ask questions. Explore responses.
6. Following up is better than making promises
If the group is small enough and you've asked for contact information, send a thank you and a summary to participants or to leaders who may convey your message. Offer a follow-up meeting, especially if an advisory group or task force evolved from your interactions. Assign tasks to specific officers and get a summary of results ready to report. Be ready to find and present good news about the issue. Make sure the patrol officers working the neighborhoods are aware of what happened at the meetings if they weren't present. They will be key in maintaining support for your efforts.