Mayor-elect wants NYPD to resume beat cop patrols on streets
"The goal is to rebuild trust," said Mayor-Elect Eric Adams
---
By Tim Balk
New York Daily News
        
NEW YORK — As Mayor-elect Eric Adams prepares to dictate policy for the nation's largest police department, he has kept a romantic vision at the heart of his plans for the polarizing 35,000-officer-strong force.
Adams, who spent 22 years as a reform-focused police officer before climbing to the mayoralty on a public-safety message, said he believes a crucial step to healing the NYPD's deep rifts with some communities is to return beat cops to the city's streets.
"The goal is to rebuild trust," Adams told the Daily News. "We can show people that these officers are human beings just like them. They have children. They have families. They have spouses. They want to go home safe, and they want you to go home safe."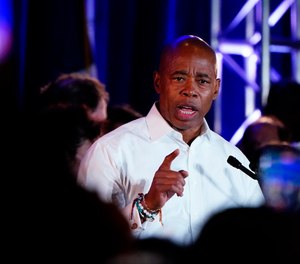 He said he intends to target areas where confidence in the cops is low, survey communities about police responses and determine officers' promotions based on neighborhood feedback.
The effort will not be easy. And it could meet distinct skepticism from activists and policing experts.
In the mid-20th century, officers with steady foot posts were commonplace in New York City. Adams fondly recalls the white officer who walked the working-class neighborhood of Jamaica, Queens, the community of his youth.
"He knew how to keep you out of trouble," said Adams, a Black Democrat who was once in a youth gang and often recounts a beating he received from cops at 15.
Over time, as concerns around kickbacks — the free doughnut or coffee, or even complicity in drug deals — collided with changes in crime patterns, the Police Department dismantled its foot patrols.
A 1972 report from an investigative task force named the Knapp Commission exposed pervasive corruption in the NYPD and helped lead to a reduction in foot patrols.
[RELATED: Foot patrol works. More of it will reduce violence.]
Adams is hardly the first politician or policeman to pine for an older pavement-pounding law enforcement model.
Under Mayor David Dinkins in the early 1990s, the Police Department pushed community policing and peddled a PR drive under a memorable banner: "The Beat Cop is Back."
The program did not go according to plan. The officer who served as the poster boy for the ad campaign, Richard DeGaetano, was shot in the head in a 1992 fight between a landlord and a tenant in Bath Beach, Brooklyn.
"It got bogged down," said Joseph Esposito, a member of the NYPD from 1968 to 2013 who rose to chief of the department. "They were concerned about the corruption and the cops. Listen, it's a delicate balance."
After Dinkins was swept out of office in 1993, the department's focus trended toward crime-fighting under Mayor Rudy Giuliani, and the emphasis on beat cops wilted and faded away.
Mayor Bill de Blasio promised to tilt the balance back in the direction of community policing, presenting the change as a key plank in his reform efforts. But critics have said the shift was more symbolic than substantive, and the rollout was opaque.
De Blasio's program reduced the tally of low-level arrests. Still, it did not leave a mark on racial disparities or crime rates, said Brenden Beck, a University of Colorado, Denver, professor who has studied the NYPD.
The administration came up short, Beck said, on promises to use citizen sentiment surveys and on disclosing information about how it was using officers. "The NYPD is not great about sharing that kind of deployment data," Beck said.
The Police Department declined to provide specific data around its community policing investment. But a spokesman, Sgt. Edward Riley, pointed to precinct-by-precinct websites, which typically list between a half-dozen and a dozen neighborhood coordination officers per precinct.
Adams has promised a more transparent NYPD. "I'm not going to try to protect the dysfunctionality of this city," he said. "We need to expose it."
Still, it is not certain that growing the count of cops on foot posts, or better informing the public about their work, will ensure the effects Adams is seeking. Studies of community policing programs have met mixed results, with some research finding they improve trust, and other research showing that they don't.
"If the police were not terrorizing people's communities, and if the police were helping people in ways that made sense, I think that would actually engender trust," said DeRay Mckesson, a Black Lives Matter activist who splits his time between New York and Baltimore. "I don't think it's seeing the police."
Mckesson said confidence in cops can instead be improved through greater accountability and a more muscular civilian review board.
In other corners, heavy investment in foot patrols could also raise concerns about hamstringing the force's ability to fight crime.
"It can't work to its fullest potential unless you have a lot more cops," Esposito said of neighborhood policing. "And you're not going to get a lot more cops."
Adams, who has called for a reduction in the NYPD budget in the past but denounces "defund the police" rhetoric, argues he can boost community policing by taking officers off clerical work and incentivizing promotional paths that keep cops on the neighborhood beats.
John McAuliffe, a former beat cop who comes from a line of New York City police officers, said he believes few cops want to work the streets given recent community-police tensions and the scrutiny officers now face. But he said cops still benefit from more time on foot posts.
"You've got to make decisions on your own, and you grow up real fast," said McAuliffe, who retired last year. "It teaches you how to talk to people."
That education, Adams argued, renders the NYPD better equipped to serve communities.
"I believe that that steady cop could differentiate between little Johnny just acting up," Adams said, "and little Johnny carrying a gun."

©2021 New York Daily News.
McClatchy-Tribune News Service