Metal band donates $95K to support families of fallen LEOs
Funds will benefit Concerns of Police Survivors organization
---
By Police1 Staff

LAS VEGAS — The first thing people imagine when they think of heavy metal bands isn't charity -- usually. 
But on Tuesday, Five Finger Death Punch, a Las Vegas-based band famous for such songs as "Gone Away" and "Bad Company," donated $95,000 of concert proceeds to support families of fallen law enforcement officers, according to a Facebook post. 
"Unfortunately, every 58 hours a police officer who believes in something sacrifices everything and dies in the line of duty," guitarist Zoltan Bathory wrote.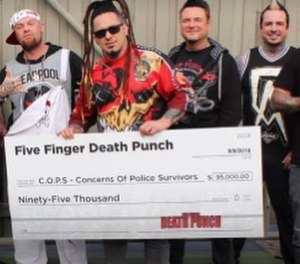 The donation follows a June announcement of the band's plan to donate a portion of ticket sales from their upcoming tour to Concerns of Police Survivors, an organization that supports families of officers killed in the line of duty by offering scholarships, counseling services and peer support. 
"Today we are making this donation as a token of our respect and gratitude to those who committed to protect and serve, to those who signed up to bravely hold that thin blue line between 'civilization as we know it' and 'lawless savagery and chaos,'" the post said. "Our chosen charity -- C.O.P.S. helps and benefits the families of our fallen heroes in blue." 
The band's new music video for single "When the Seasons Change" also honors fallen officers.
You can watch the full clip below.