The Up-Beat: Top police heroes of December
Our monthly roundup of cops doing good across the nation
---
By Police1 Staff
From small gestures of kindness to incredible acts of heroism, police officers help their communities every day. Our monthly news roundup, The Up-Beat, aims to bring greater attention to these inspiring stories.
This month, we're highlighting holiday giving, a wedding day savior and more stories of cops lending a hand. Do you have an uplifting story to share? Email editor@police1.com or submit a story using the link below.
1. HERO OF THE MONTH: Officer Wayne Jean
The Port Orange Police Department partnered with the nonprofit Spouses Backing the Blue by accepting toys and other donations to make Christmas special for families in need.
Officer Wayne Jean is once again leading the initiative. Jean says the inspiration for his work comes from his own childhood hardships.
"It's our way of giving back to the community that we serve every day of our career," he said. Great work, Officer Jean! FULL STORY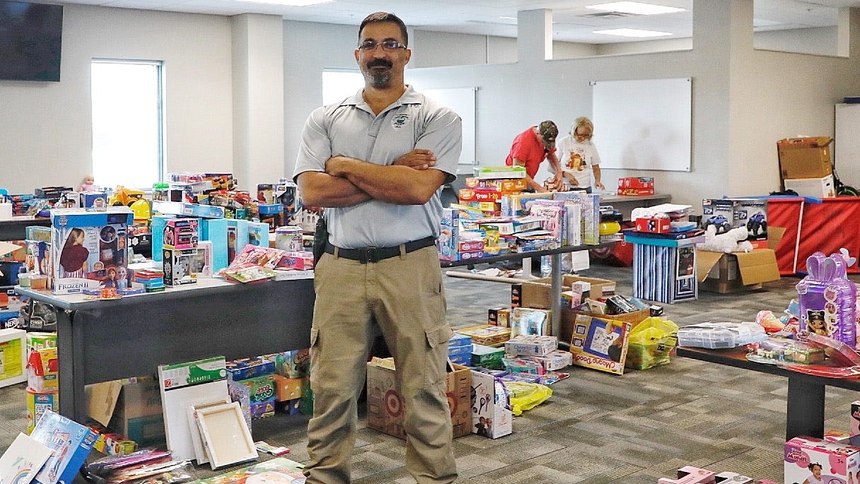 2. Texas cop recovers stolen wedding rings just hours before 'I do'
Officer Charles Bonar is credited with saving a couple's wedding day from disaster: just hours before the ceremony, their wedding rings were stolen from a shopping cart. Bonar's bodycam captured the special moment when the officer returned the rings. FULL STORY
3. Off-duty officer buys, changes tire for stranded mom and baby
An off-duty cop went into grandpa-mode after encountering a stranded mother and her 1-year-old earlier this week. FULL STORY
4. Va. officer named 'top cop' for water rescue that saved two lives
Officer Zach Hyman was filling out a routine police report on his dinner break when a high-priority call came in. What happened next saved two lives and led to Hyman being named the "Top Cop" of the year. FULL STORY
5. S.C. police officer gets surprise reunion with little girl he saved in 2019
Officer Jerrid Riley was surprised by a heartwarming reunion with a girl he saved two years earlier. Young McKenna Delarosa and her mom thanked him again with a hug. FULL STORY
6. Ore. deputy credited with saving child's life
Deputy Christopher Petetit was recognized for his dedication after saving a little girl who suffered a seizure.
"To say I'm thankful is an understatement," the girl's father told KOBI 5. "My family would not be a family today if it weren't for this incredible [deputy], who I now consider our friend." FULL STORY
plus, A hero's hero: Officer desiree palmer and filmmaker conrad weaver
Sometimes cops need saving, too. This month, we're highlighting the work of a good Samaritan who went out of his way to help an officer in need.
Until recently, Officer Desiree Palmer was living in a cold house. Palmer was out of work because of a duty-related injury and was struggling to live on reduced pay.
That's where filmmaker Conrad Weaver comes in. Weaver – who was producing a documentary about first responders and mental health – had met Palmer through filming. He knew he had to help. FULL STORY
NEXT: 50 states, 50 police heroes: How cops made an impact in 2021