The Up-Beat: Top police heroes of September
Our monthly roundup of cops doing good across the nation
---
By Police1 Staff
From small gestures of kindness to incredible acts of heroism, police officers help their communities every day. Our monthly news roundup, The Up-Beat, aims to bring greater attention to these inspiring stories.
This month, we're highlighting quiet acts of kindness, a philanthropic traffic stop and more stories of cops lending a hand. Do you have an uplifting story to share? Email editor@police1.com or submit a story using the link below.
1. HERO OF THE MONTH: Officer Anthony Camerada
Each year, thousands of runners take part in the Tunnels To Towers 5k charity run to honor firefighter Stephen Siller's final steps to the Twin Towers on 9/11. This year, Staten Island MTA police officer Anthony Camerada joined the run — garbed in full uniform.
"Stephen Siller's story has always been inspiring to me, and has weighed heavily on my decision of becoming a first-responder," said Camerada. "Not only did I want to represent the MTAPD, but I wanted to honor the sacrifice of Stephen Siller and all the other heroes of September 11th."
The starting line was filled with other first responders, some of whom followed suit by wearing their own uniforms. Great work, officer! FULL STORY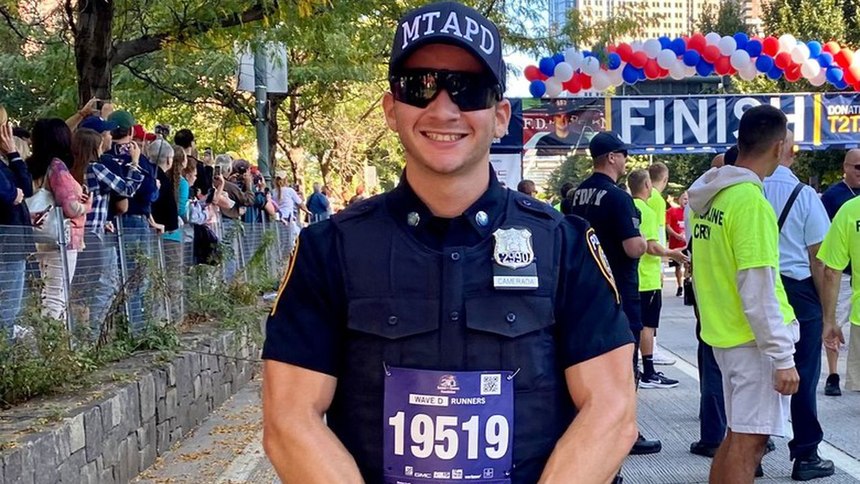 2. Instead of writing a ticket, these Ga. cops bought new car seats
Upon seeing that the driver's children were in ill-fitting car seats, two deputies decided that a citation wasn't the way to go. FULL STORY
3. An elderly man couldn't pay his tab, so a police officer did
While struggling with his bank account, a flustered senior citizen called for help. Officer Anthony Glass went above and beyond to fix the situation. FULL STORY
4. Watch: Calif. rookie officer saves man trapped in burning car
"The first thing going through my mind was, 'get him out of the vehicle' before it was just covered in flames," said Officer Pedro Garcia. FULL STORY
Bravery under fire

Yesterday, rookie officer Pedro Garcia came upon a collision on Hwy 101 with one vehicle engulfed in flames and the driver still inside. pic.twitter.com/1cyc8AMkQp

— San Jose Police Dept (@SanJosePD) September 27, 2021
5. Watch: Cop braves rushing Ida floodwater to save woman
When Hurricane Ida brought dangerous flooding to New Jersey, Officer Justin Quinlan made sure he was on the front lines. FULL STORY
Whether it's your own story, a colleague's, a neighboring PD's, or simply something you saw on the internet, submit your good police news to us HERE for a chance to be featured in The Up-Beat.
Want more hero stories? Check out our Police Heroes page and our roundup of police heroism in 2020.