50 states, 50 police heroes: How cops made an impact in 2020
Law enforcement stepped up through acts of heroism – big and small – to create some good in a year that desperately needed it
---
By Police1 Staff
We all needed a hero in 2020. As the year brought a seemingly endless onslaught of unprecedented challenges, law enforcement stepped up through acts of heroism – big and small – to create some good in a year that desperately needed it.
From providing aid to the most vulnerable during the COVID-19 pandemic to throwing birthday parades for kids stuck at home, we've rounded up one act of police heroism from each of the 50 states – just a small sample of the excellent work LEOs do every day across the country.
Looking for more uplifting stories like these? Follow The Up-Beat – a monthly series we launched earlier this year that aims to bring greater attention to police acts of heroism and kindness. Email your police hero stories to editor@police1.com. 
Alabama
SRO creates interactive reading, singing, magic videos for homebound children
Deputy James Sellers was one of many cops who took to the internet to help keep kids stuck at home during the pandemic learning and engaged – and help lighten their parents' load, as well! FULL STORY
Alaska
Anchorage cop helps pup find new home
A police officer in Anchorage helped a dog find a new home after spotting the animal running in the middle of traffic. 
Arizona
Cop adopts girl he comforted while working child abuse case
Officer Brian Zach stepped up when child services couldn't find any family for the 4-year-old. FULL STORY
Arkansas
SRO goes viral for daily prayer outside school
Officer DeAndra Warren prays each day for the students, administrators and staff he works alongside. FULL STORY
California
Cop saves man in wheelchair from oncoming train
Officer Erika Urrea only had seconds to save a man stuck on the tracks. FULL STORY
Colorado
LEOs deliver pie for woman's 102nd birthday
Many Americans had to skip birthday celebrations this year because of the pandemic. Cops in Arvada made sure Susie Montoya, who was celebrating her 102nd birthday, had a special one despite the circumstances. 
Connecticut
Officers flip burning car, pull driver to safety
Officers pushed the burning vehicle back onto its wheels to rescue the woman inside. FULL STORY
Delaware
LEO saves hawk trapped in train station
The hawk had been trapped for several days. 
Florida
Miami cop befriends teen who attacked him at BLM protest
Officer Raymon Washington turned a negative into a positive when his attacker asked to meet with him. FULL STORY
Georgia
Atlanta cop gifts own car to mother of 5
Officer Veronica Campbell went above and beyond for a struggling mother who had recently fled a domestic abuser. 
"I'm always trying to find different ways I can give and help people," said Officer Campbell. FULL STORY
Hawaii
Honolulu officer buys work boots for man in need
The man couldn't start his new job because he didn't have steel-toed boots. 
"Random acts of kindness by police go unnoticed every day in our department," said Officer Tiyani Mead. "I just did what any other officer would have done."
Idaho
Sheriff's office gives out 'tickets for turkeys'
The agency has given away over 500 turkeys in the annual program. FULL STORY
Illinois
LEO rescues 14-year-old from house fire
Officer Bill Wise was initially overcome by flames and smoke but managed to get the boy out. FULL STORY
Indiana
Cop helps boy run lemonade stand, makes donation
The officer said he wants to show young kids that police are there to support them. FULL STORY
Iowa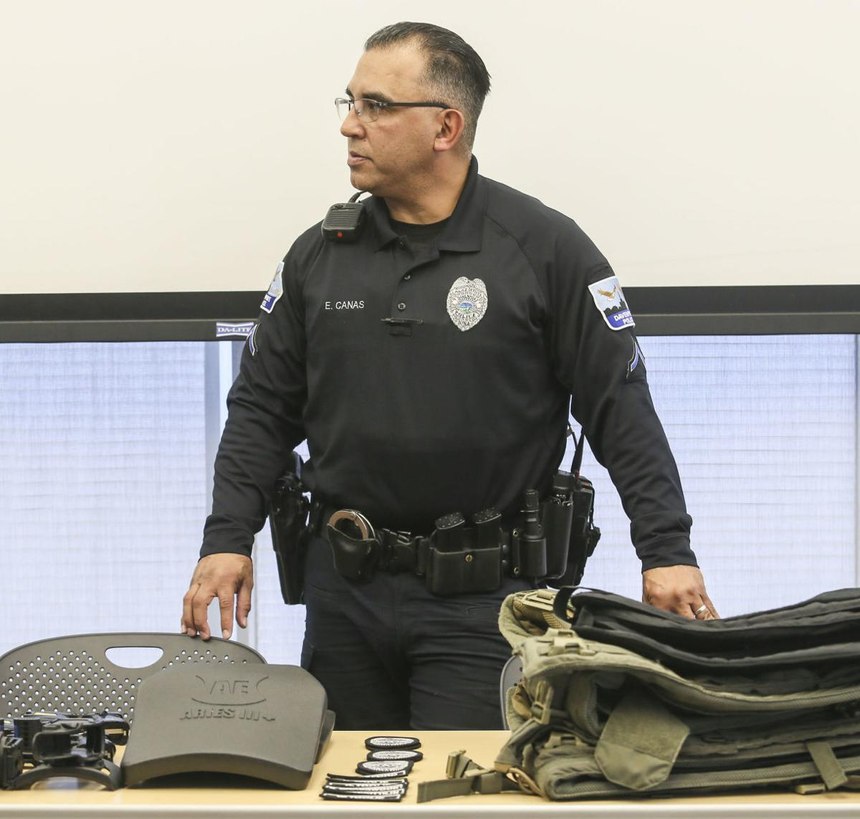 Iowa LEO collects equipment to outfit Alaska police department
After reading a news story about the challenges of rural policing in Alaska, Officer Peme Canas began collecting equipment and donations for one small town. FULL STORY
Kansas
Cop saves owl tangled in soccer net
The Great Horned Owl was checked for injuries before being released. 
Kentucky
While on a date, married off-duty LEOs stop masked robber
Det. Chase McKeown and Officer Nichole McKeown were at the right place at the right time. FULL STORY
Louisiana
New Orleans officer who lost father to COVID-19 now wears his badge
Officer Mark Hall Sr. died one day before his son was to graduate from the training academy. FULL STORY
Maine
Cop helps raise thousands for Special Olympics
Lt. Matt Buttrick and other officers bought 18 gift cards from local restaurants and raffled them off, which not only raised money for the Special Olympics but also helped local eateries struggling during the pandemic. 
Maryland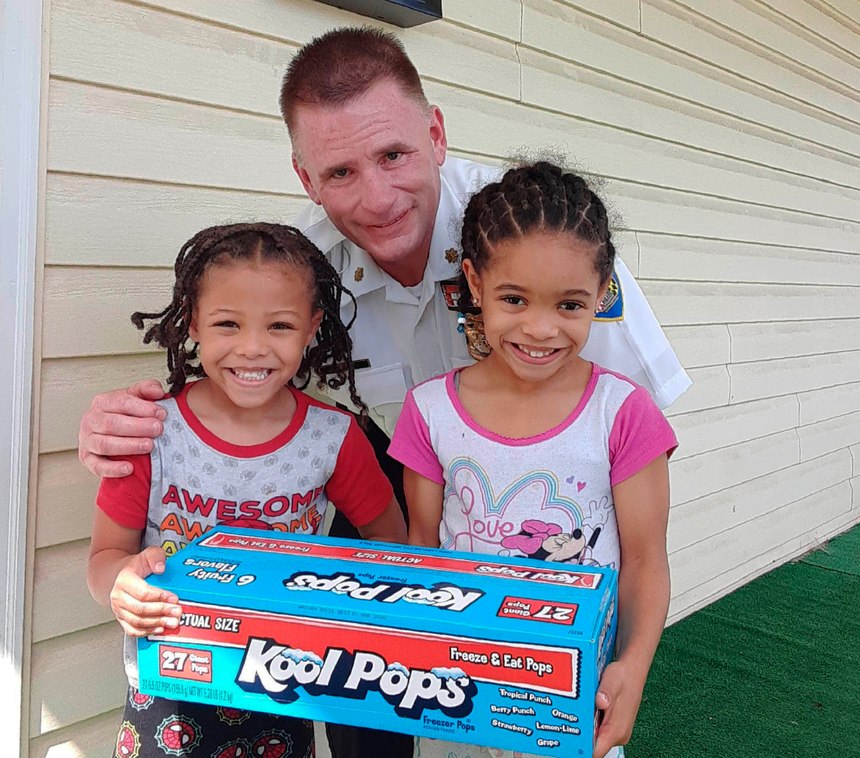 Kids surprise cop with ice pop on hot summer day; he returns the favor
After a couple of kids provided an ice pop to help an officer cool off on a hot day, he was more than happy to surprise them with his own show of appreciation. FULL STORY
Massachusetts
Police share letter from a woman they saved after an overdose
The woman said the OD was a wake-up call that helped her break the cycle of addiction. FULL STORY
Michigan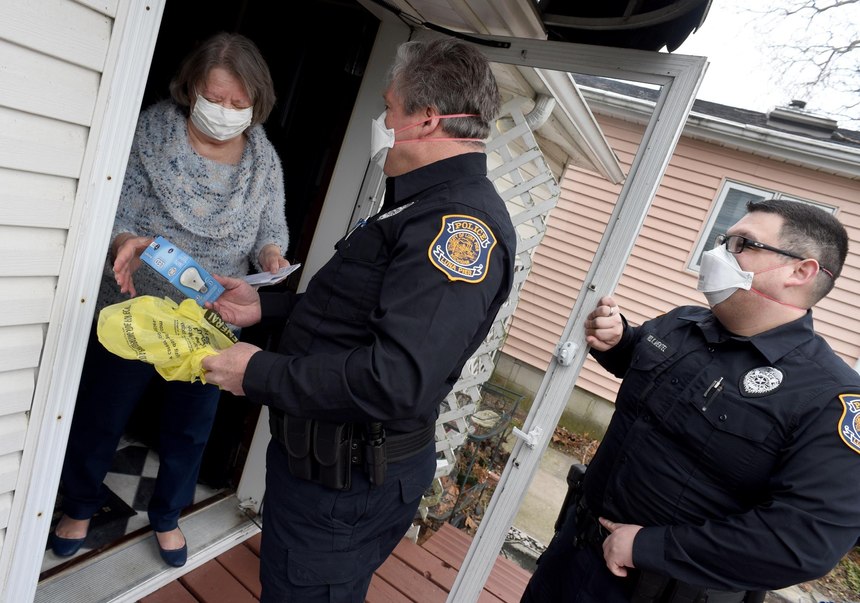 Police deliver essential items to elderly residents during the pandemic
"There's elderly and shut-ins around here who are alone. Some don't have anything. If we can help, we're going to do that." FULL STORY
Minnesota
PD debuts kids' police truck filled with ice cream, video games, bike helmets
Cops handed out the free treats as a way to connect with the community. FULL STORY
Mississippi
Cop saves driver passed out in moving car
Officer Matthew Barnes found a woman passed out from a medical emergency after getting reports of a driver swerving erratically. 
Missouri
Single, broke mom donates lottery prize to a cop who was shot; he returns the favor
Police set up a GoFundMe for the woman after her kind gesture, which raised over $100K. FULL STORY
Montana
Police rescue trapped porcupine
The critter was stuck in a yard but was released back out into the wild thanks to the work of officers. 
Nebraska
Officer, shopper take down shooter in Omaha grocery store
Deputy Chief Scott Gray was off duty and armed when a man entered the store with a gun. FULL STORY
Nevada
Police provide turkey dinners to families in need
Officers handed out free turkey meals to over 200 families for the holidays. 
New Hampshire
Off-duty cop helps save pilot after plane crashes into lake
Officer Joe Ponzo says he was vacationing at the right place at the right time. FULL STORY
New Jersey
Cop in kayak rescues dog trapped in pond
The boxer-mastiff mix, named Akela, was in high spirits after the rescue. FULL STORY
New Mexico
LEO saves young girl from standoff
The LEO negotiated for over two hours to get the girl out of the home. 
New York
Police, bystanders pull elderly couple from sinking car
The car had careened into a canal. FULL STORY
North Carolina
Cop takes lunch break to share pizza with homeless woman
"I come to work and my method is, 'Who can I bless today? Who can I make smile?'" Officer Michael Rivers said. FULL STORY
North Dakota
Fargo police donate clothing to the needy
The department held an internal drive to provide winter clothing to a local shelter. 
Ohio
Cop steps in to marry couple after no minister available at courthouse
What initially appeared to be bad luck turned into a moment of serendipity for a couple in love, thanks to a local cop. FULL STORY
Oklahoma
Cop called to house fire at own home, saves his family
Corporal Anthony Louie ran through a front porch that was engulfed in flames to save his family. FULL STORY
Oregon
Deputies team up to give hitchhiker 'relay-race' ride home
Four officers across four counties coordinated a carpool to make sure one man was able to get home safely from a court appearance. FULL STORY
Pennsylvania
Officer responds to false alarm at school, ends up reading to class instead
K-9 Officer Jason Bonace took time out of his day to read Dr. Seuss' "The Cat in the Hat" to a classroom of second graders. FULL STORY
Rhode Island
Cop buys groceries for elderly woman who had no food
After responding to a welfare check, the officer asked the elderly woman for a grocery list and went to the store to buy her food. 
South Carolina
Sheriff and world-champion martial artist team up to stop bullying
The partnership, which started with a children's book, has evolved into a department-wide initiative where deputies will read to students online. FULL STORY
South Dakota
SROs help feed the hungry 
School resource officers in Sioux Falls volunteered with Feeding South Dakota to help repack 29 pallets worth of food for those in need. 
Tennessee
Officer provides water for protesters
The officer's act was just one of many moments of police across the nation working to bridge the divide and begin the healing process by showing support to activists during the George Floyd protests this year. 
Texas
Cops buy bedding, food for mother of 6 who fled abusive spouse
When officers showed up, the apartment was completely devoid of furniture. FULL STORY
Utah
Mom in need of formula calls 911, police come to the rescue
"Most of us, we got on this job to help people, and this was an example of helping out a mother that was in need," said officer Dave Ventrano. FULL STORY
Vermont
Trooper uses 3D printer to make face shields for hospital staff
The country has been dealing with a severe PPE shortage all year during the coronavirus pandemic. A trooper in Vermont did what he could to try to alleviate the situation for local medical staff. 
Virginia
Officer's on-duty skateboard skills go viral
Officer Ryan Borman hopes to bridge the gap between law enforcement and the skate community. FULL STORY
Washington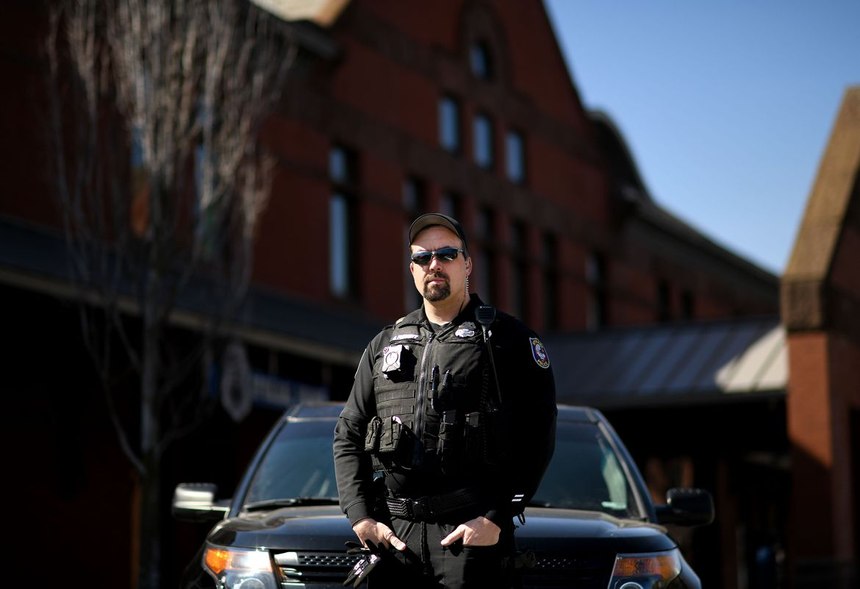 Officer aids vulnerable citizens as pandemic makes resources hard to access
"My wife likes to pack me extra socks, gloves, stuff like that, hand sanitizer, Kleenex," Officer Richie Plunkett said. "So I got certain guys that I try to look out for on the streets, and I like to make sure they're getting these things. They're not feeling left out from society at this point in time." FULL STORY
West Virginia
Cops stage fake traffic stop for military homecoming surprise
Officers in West Virginia helped a soldier surprise his parents with a homecoming to remember. 
Wisconsin
Cops give boy birthday surprise during quarantine
Like many children this year, 6-year-old Caleb was feeling down because of the quarantine – unable to attend school or have a birthday party with his friends. Officers in West Allis are just one of the many examples of cops who stepped up all over the U.S. to give kids something to cherish on their pandemic birthdays this year. FULL STORY
Wyoming
Cop climbs onto roof to help stranded deer
The deer was stranded on an awning in a parking garage.