5 of the best concealment holsters for your Glock
Concealed carry is becoming more and more popular with police officers across the United States, and for a huge number of cops, the off-duty gun of choice is a Glock, just like on the job
---
Even as Sig Sauer, Smith & Wesson, and others continue to make significant inroads into the law enforcement firearms market, the majority of American police officers still carry Glock as their sidearm of choice. Glocks are popular with cops because of their durability, accuracy, and simplicity. Among the other features frequently noted by Glock proponents are the gun's rapid cycling time and smooth trigger break. Glocks are also considered to be easy to dismantle and clean.
Increasingly, off-duty officers are choosing to carry their Glocks off duty — or in the event that their agency won't allow for the duty gun being carried off the job, carrying another Glock of their own choosing. While many might go for carrying outside the waistband (OWB) with a holster from a vendor like Bravo Concealment or an ankle-carry rig from a vendor like Sticky, many cops are opting for deep concealment with an inside the waistband (IWB) model. It is in this marketplace that options have exploded onto the scene in recent years.
To save you the time — and the expense — of trying out a dozen IWB holsters in search of that "perfect fit" for you, here are five holster options to consider for carrying your Glock in a deep concealed mode. Add your favorite choice in the comments section below.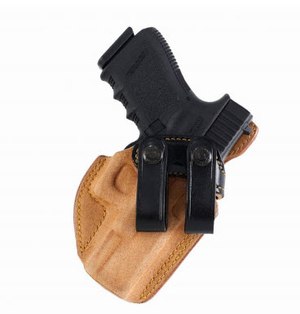 The Stealthgear VentCore
The StealthGear VentCore IWB  is a hybrid holster with a Kydex pocket and a backing made from a synthetic material which does not absorb liquid (read: sweat). It is vented for breathability and comfort, so even in hot weather the holster remains light, dry, and comfortable. Also, unlike some leather backing platforms, this synthetic material does not squeak. The cant angle is adjustable, and the spring steel belt clips are tuckable, aiding in deep concealment. 
The Hybrid from JM Custom Kydex and JRC Holsters
The Hybrid is a beautiful and functional holster that is the result of a collaboration between JM Custom Kydex and JRC Holsters. The design begins with .093 thick Kydex for the front of the holster — the manufacturers trim away any excess Kydex that doesn't serve a purpose. The belt loop attachment holes are recessed slightly to keep the body side smooth and comfortable and have multiple mounting holes so the end user can adjust ride height and cant to their liking. It can also be made with a full- or mid- sweatguard.
The Deep Concealment Holster from Cherries
Cherries' Deep Concealment Holster is for those who choose appendix carry, even with a larger frame gun. The company calls it an Appendix Below-The-Waistband (A-BWB) holster designed for deep concealment where extra retention and concealment are needed. Utilizing something the company calls its patent-pending "Zero-Print design," the holster actually sits securely below the waistband, not behind it, and therefore rests on the inner part of your thigh. This does two things: it makes it far more comfortable to sit for prolonged periods with an appendix carry option, and it allows for "the guy with a bit of a gut" to choose appendix carry, without the gun cutting into that boiler they've developed. This holster fits all nine versions of the Glock chambered in 9mm and .40 caliber standard double-stacked magazine shells bodies — this includes the Glock 17 and 17L, the Glock 19, 22, 23, 26, 27, 34, and 35. Holsters for other firearms manufacturers may be added in the future.
The Galco Royal Guard 
For the concealed carry citizen or off-duty police officer who wants to go with a leather solution, one cannot go wrong with the Galco Royal Guard. There are actually two types of leather finish on this holster. The side that goes against the body is smooth for a very comfortable fit, and the side that goes against the clothing is rough. This rough finish helps to stabilize the gun in place by creating friction between the two surfaces. There is no retention adjustment, as the holster relies on the pressure placed between the belt and the body to keep the gun secure. This simple solution has stood the test of time and remains very popular with those who favor the all-leather option.
The CrossBreed SuperTuck Deluxe
CrossBreed's Super Tuck is a hybrid IBW with two belt clips, making the carry platform very stable and secure, while also remaining deeply concealed. Those powder coated steel belt clips are modular, enabling users to adjust cant as well as ride height. Each holster is constructed with a premium leather backing and Kydex pocket. As the name suggests, SuperTuck allows for the user to tuck in their shirt for occasions when the untucked look is unwanted or unacceptable.
Conclusion
These are just five of the myriad options available, and they are in no particular order. They are just the five models with which I have the most familiarity and confidence in endorsing as truly great IWB holsters for a Glock pistol. Not all of them are necessarily available for every Glock model, so do your own research. Talk with your friends and find out what they like. It's highly probable that the comments section below will quickly fill up with other ideas to consider. 
Remember that no matter what you choose, probably the most important thing to consider when buying a deep concealment holster is to practice, practice, practice. Depending on which carry option you choose, it can be vastly different from your duty holster.