Judge orders Ill. county to disclose names of COVID-19 patients to first responders
The state's attorney's office and several police departments filed a lawsuit asking for the names of infected individuals so first responders could be prepared when responding to calls
---
Robert McCoppin
Chicago Tribune
McHENRY COUNTY, Ill. — A judge has ordered that the McHenry County Department of Health divulge the names of coronavirus patients to emergency dispatchers so police know who has the virus when they respond to emergency calls, prosecutors said.
State's Attorney Patrick Kenneally's office filed a lawsuit last week on behalf of the sheriff. After the filing, police departments from Algonquin, Lake in the Hills, the city of McHenry, and Woodstock joined the suit.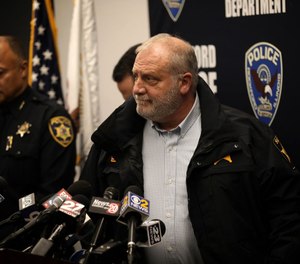 On Friday, McHenry County Judge Michael Chmiel entered a temporary restraining order mandating that the Health Department disclose to police the names of those actively infected with COVID-19.
Sheriff Bill Prim had asked the Health Department to provide the names and addresses of those infected to the county's Emergency Telephone System Board, which oversees the dispatch of 911 calls.
The information would be relayed to responding officers on each call as necessary to help them protect their health, Prim said.
The Health Department refused to reveal the names, prosecutors stated in a news release. Health departments have typically cited privacy concern in withholding such information, specifically the federal Health Insurance Portability and Accountability Act.
The court order directed the Health Department to disclose the names within 24 hours of being notified. The order also required that the names of patients shall be purged from the dispatch system seven days after the health department deems the patients no longer contagious. The court also ordered that all the information received by the dispatch system be kept confidential.
Health Department officials could not immediately be reached for comment.
"This was a no-brainer for the Health Department, a common-sense, confidential, and entirely lawful way they could have worked collaboratively with police departments to assist in enhancing the safety of officers and the community in these dangerous times, and they strangely refused," Kenneally said. "The fact that we had to spend precious time and public resources, clearly best spent elsewhere in this difficult time, to get a court order in our favor is beyond disappointing."
McClatchy-Tribune News Service