National Police Week public events canceled, Candlelight Vigil will be live streamed
Fallen law enforcement officers to be honored during Virtual Candlelight Vigil on May 13
---
By Nancy Perry
Washington, DC — Concerns for Police Survivors (C.O.P.S.) and partner organizations who plan National Police Week events have announced that because of the COVID-19 restrictions in place in the D.C. and Virginia area, as well as travel advisories throughout the country, the public events of National Police Week 2020 have been canceled.
"This decision was extremely difficult, yet necessary to protect the health and wellness of our members. Your support is appreciated during these trying times, but please know the C.O.P.S. National Board and staff are here to answer any questions you may have," wrote C.O.P.S. Executive Director Dianne Bernhard in an announcement on the C.O.P.S. website.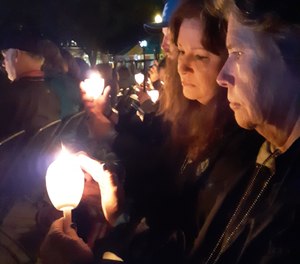 The National Law Enforcement Officers Memorial – a National Police Week signature event – will take place virtually. The names of fallen U.S. law enforcement officers who have died in the line of duty will be formally dedicated on the walls of the National Law Enforcement Officers Memorial during a virtual Candlelight Vigil on Wednesday, May 13, 2020.

Traditionally held on the National Mall with more than 30,000 first responders, surviving families and law enforcement supporters in attendance, the names of each of the men and women who died in the line of duty during 2019 will be read aloud during the virtual Candlelight Vigil, which will be live-streamed. The names of fallen law enforcement officers who died earlier in history, but whose sacrifice had not been previously documented, will also be read during this time.
"The current crisis our nation and the world is facing has resulted in the cancelation of pubic gatherings in DC during National Police Week 2020," said National Law Enforcement Officers Memorial Fund CEO Marcia Ferranto. "We will not let this crisis deter us from honoring the fallen. We plan to march forward in solidarity with a virtual Candlelight Vigil and the reading of the names that can be watched from anywhere in the world. Then, as the future becomes more certain and the end of the crisis is near, we will begin to make plans for an in-person reading of names to honor our fallen officers." 
The National Fraternal Order of Police and the Memorial Committee reported they are working to have a "meaningful and respectful media tribute to our fallen heroes on May 15, National Peace Officers' Memorial Day."
It is with deep regret that we must inform you that the 2020 peace officers memorial service must be cancelled. America is facing difficult times, but together, we will prevail! pic.twitter.com/6losdsBRj3

— National FOP (@GLFOP) March 18, 2020
C.O.P.S. encourages officers and families to reach out to their C.O.P.S. Chapter for local support, as well as follow C.O.P.S. on social media for continuous updates, uplifting stories and messages of hope.