Treasury secretary says first responders could receive COVID-19 hazard pay
U.S. Treasury Secretary Steve Mnuchin said a fourth stimulus package could include hazard pay for those on the front lines of the crisis
---
By Police1 Staff
WASHINGTON — U.S. Treasury Secretary Steven Mnuchin said that hazard pay for first responders could be included in future legislation to address the COVID-19 national health emergency.
Mnuchin told CNN Monday that his department has not yet begun work on a fourth stimulus package, as it works to implement the third package passed by the Senate last week, but that hazard pay for first responders and healthcare workers is "definitely something we will put in the next bill."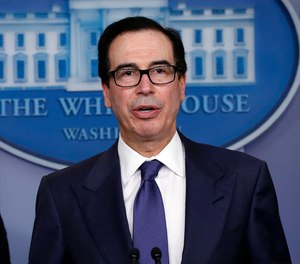 Mnuchin said he agreed with President Donald Trump when he said on "Fox and Friends" Monday morning that his administration was looking into including hazard pay for healthcare workers, some of whom don't qualify for the checks included in the previous package, according to CNN.
Since the outbreak began, numerous police officers have become infected. Some agencies, like the New York Police Department and Detroit Police Department, have been hit particularly hard, with cases numbering in the hundreds. Some cities have already implemented hazard pay for officers during the crisis, while some unions are pushing for it.
LEARN MORE
Feds tell hospitals they may share information about COVID-19 patients with first responders
Families First Coronavirus Response Act: Understanding the leave provisions
Self-care for public safety professionals during the coronavirus crisis