Items recovered from a cabin might be linked to escaped convicts
Items from Adirondack cabin some 20 miles west of the prison were sent to labs for DNA and other testing
---
Associated Press
BELLMONT, N.Y. — Items recovered from a remote hunting cabin might be linked to a pair of convicted killers who escaped from a nearby prison more than two weeks ago, authorities said Monday as searchers swarmed rugged woods in the hamlet in far northern New York.
State Police Maj. Charles Guess said at a news conference that authorities had "specific items" from the Adirondack cabin some 20 miles west of the prison and sent them to labs for DNA and other testing. He would not elaborate on the items but characterized the latest search effort — one of many over the past 17 days — as a confirmed lead.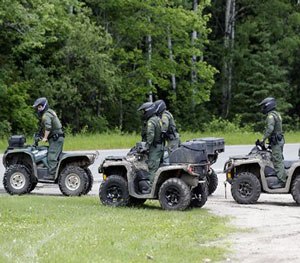 "There are a number of factors that make this a complex search: the weather, the terrain, the environment and frankly the vast scope of the north country of the Adirondacks," Guess said.
He urged residents and seasonal camp owners to call police if they notice anything out of place or capture footage on trail cameras of any suspicious activity.
Acting Franklin County District Attorney Glenn MacNeill had told WPTZ-TV on Sunday that a person had been seen fleeing from a hunting camp in the area.
Inmates David Sweat and Richard Matt escaped June 6 from the Clinton County Correctional Facility. Sweat, 35, was serving a life sentence without parole for killing a sheriff's deputy. Matt, 48, was doing 25 years to life for the 1997 kidnapping, torture and hacksaw dismemberment of his former boss.
Prison worker Joyce Mitchell remained in custody on charges she helped the two men escape by providing them hacksaw blades, chisels and other tools. She has pleaded not guilty.
Monday's search area is about 20 miles east of Mitchell's home in Dickinson Center.
Busloads of officers, search dogs and helicopters began arriving in the Adirondack hamlet of Bellmont late Sunday as a parallel search more than 350 miles away from the prison wrapped up with no sign of the inmates.
The search had been focused over the weekend on two towns in Allegany County along the Pennsylvania state border. An unconfirmed but credible report came in that two men resembling the prisoners had been spotted near a railroad line that runs along a county road.
New York State Police said Monday morning that the search in the towns of Amity and Friendship in western New York had concluded.
Since Sweat and Matt escaped from the prison in Dannemora, more than 800 law enforcement officers have gone door-to-door checking houses, wooded areas, campgrounds and summer homes.
Vermont State Police also have joined the Adirondack-area search.
Officials said a corrections officer has been placed on administrative leave as part of the investigation into the men's escape.
Attorney Andrew Brockway told Plattsburgh television station WPTZ that the officer, Gene Palmer, was completely forthcoming during 14 hours of questioning Saturday.
"I can 100 percent confirm that he did not know they were planning on breaking out of the prison," Brockway said.
Palmer has not been charged.
Copyright 2015 The Associated Press.