US weighs clemency for thousands of inmates jailed for 10 years
The Obama administration is encouraging many nonviolent federal prisoners to apply for early release — and expecting thousands to take up the offer
---
By Eric Tucker
Associated Press
WASHINGTON — The Obama administration is encouraging many nonviolent federal prisoners to apply for early release — and expecting thousands to take up the offer. It's an effort to deal with high costs and overcrowding in prisons, and also a matter of fairness, the government says.
On Wednesday, the Justice Department unveiled a revamped clemency process directed at low-level felons imprisoned for at least 10 years who have clean records while in custody. The effort is part of a broader administration push to scale back the use of harsh penalties in some drug prosecutions and to address sentencing disparities arising from the 1980s crack cocaine epidemic that yielded disproportionately tough punishment for black drug offenders.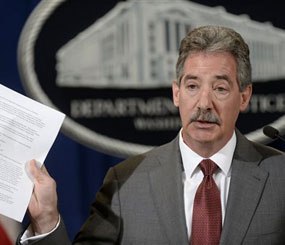 "These older, stringent punishments that are out of line with sentences imposed under today's laws erode people's confidence in our criminal justice system," Deputy Attorney General James Cole said, laying out new criteria that will be used to evaluate clemency petitions for possible recommendation for the president's approval.
Though the criteria apply solely to federal inmates, states, too are grappling with severe prison overcrowding. In Nebraska, for example, prisons were at 155 percent of capacity at the end of March. And in California, courts have ordered the state to reduce the inmate population to 137.5 percent of designed capacity, or 112,164 inmates in the 34 facilities, by February 2016.
The White House, sometimes criticized as too stingy with its clemency power, says it's seeking more candidates for leniency in an overcrowded federal prison system whose costs comprise a sizable percentage of the Justice Department's budget.
The system's population has skyrocketed in recent decades, creating rising multibillion-dollar expenses that officials say threaten other law enforcement priorities and that an inspector general's report last year characterized as a "growing crisis." The United States incarcerates about a quarter of the world's prisoners. Of the roughly 216,000 inmates in federal custody, nearly half are imprisoned for drug-related crimes.
The Justice Department says now's the time to consider releasing more prisoners early.
"These defendants were properly held accountable for their criminal conduct. However, some of them, simply because of the operation of sentencing laws on the books at the time, received substantial sentences that are disproportionate to what they would receive today," Cole said.
Officials say they don't know how many of the tens of thousands of drug-related convicts would be eligible for early release, but an ideal candidate would meet six criteria — including no history of violence, no ties to criminal organizations or gangs and a clean prison record. He must also have already served 10 years or more of his sentence and be likely to have received a substantially shorter offense if convicted of the same offense today.
The Bureau of Prisons will notify all inmates of the criteria next week and provide electronic surveys to those who think they deserve clemency.
The Justice Department expects the vast majority of applicants to be drug prisoners but didn't foreclose the possibility that inmates convicted of other crimes — financial fraud, for example — could be considered.
"It's really a coming together of decades of excessive sentencing, particularly in drug cases, combined with attention to the underused power of commutation," said Marc Mauer, executive director of the Sentencing Project, an organization that works on sentencing policies.
The announcement is a "fantastic step in the right direction," said Julie Stewart, president of Families Against Mandatory Minimums. And Douglas Berman, a sentencing law expert at Ohio State University, said it represented a "very meaningful change in both tone and attitude" from the days when clemency was seen as a power that carried "all political risk, no political reward."
The action is the latest change sought in a federal sentencing system that Attorney General Eric Holder says often results in unduly harsh outcomes. Earlier this year, he endorsed a proposal that would result in shorter prison sentences for nonviolent drug traffickers and, in August, directed federal prosecutors not to charge low-level, nonviolent drug offenders with crimes that entail mandatory minimum sentences.
The Obama administration has also said it is working to correct the legacy of an old sentencing structure that subjected offenders to long prison terms for crack cocaine convictions while giving far more lenient sentences to those caught with the powder form of the drug. Many of the crack convicts have been black, while those convicted of powder offenses have been more likely to be white.
The Fair Sentencing Act of 2010 reduced that disparity and eliminated a five-year mandatory minimum for first-time possession of crack, but the law did not cover offenders sentenced before the law was approved. Officials are now turning their attention to identifying inmates who received sentences under the old guidelines.
In December President Barack Obama, who granted only one commutation in his first term, cut short the sentences of eight prisoners — including six serving life sentences — who he said had been locked up too long for drug crimes.
The administration says it's impossible to know exactly how many new applicants will be eligible. Mauer, of the Sentencing Project, said he didn't expect a huge number of inmates to qualify for clemency given the narrowness of the criteria, but he said the effort was significant nonetheless.
The announcement could shift attention to Congress, where legislation is pending that would cut the length of many nonviolent drug sentences and give judges more discretion by expanding a safety-valve provision already on the books that allows a limited number of nonviolent drug offenders to avoid mandatory sentences.
"It seems the Justice Department is doing what it can to help stem the tide of people going to prison in record numbers for absurd lengths of time," said Stewart, of Families Against Mandatory Minimums. "It really is up to Congress to take the next step and change the number of mandatory sentencing laws."
Copyright 2014 The Associated Press