3 arrested after mob attacks officers at Calif. college event
As the officers got out of the car, two officers were attacked by several people and beaten on the ground
---
By Cathy Locke
The Sacramento Bee
DAVIS, Calif. — Three men were arrested following an attack on Davis police officers who encountered a group of people blocking traffic on a busy roadway during Saturday's Picnic Day at UC Davis.
The annual campus open house has become known in recent years for violence and drunken mayhem, mainly on the streets of the normally quiet college town.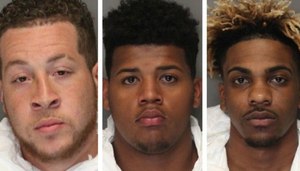 The latest incident occurred abut 3:30 p.m. Saturday, when three Davis police officers traveling on Russell Boulevard in an unmarked police vehicle encountered a large group of people in the roadway, blocking traffic, according to a Police Department news release.
One officer was in uniform with a visible badge. The other two were in plain clothes, but with badges clearly displayed on their chests and with police weapons visible, the news release said.
Traffic on Russell Boulevard was nearly gridlocked at the time because of Picnic Day activities and several large parties in the area. Because the group presented safety hazards, the officers pulled near the group to take action, according to police.
A hostile group quickly surrounded the vehicle. Several people began yelling threats at the officers in the car, and one person pretended he was pulling a gun on the officers, the news release said.
As the officers got out of the car and began to identify themselves as police, two officers were attacked by several people and beaten on the ground. Police reported that the officers were kicked and punched in the head, and one officer was struck on the side of the head with a bottle.
As they were being assaulted, the officers could see people in the crowd taking video of the attack on their cell phones, according to the news release.
The officers fought back and called for help. Two of the officers were taken to the Sutter Davis Hospital emergency room for treatment. One suffered injuries to his eye and face, and the other was treated for a bleeding head wound caused by a bottle, the news release said.
Arrested were Alexander Reide Craver, 22, and Elijah James Williams, 19, both of West Sacramento, and Antwoine Rashadek Perry, 21, of Elk Grove. All were booked into Yolo County Jail.
Craver was arrested on suspicion of aggravated battery, assaulting a peace officer, felony obstruction of a peace officer and assault with a deadly weapon. Perry was arrested on suspicion of aggravated battery and felony obstruction of a peace officer, and Williams, on suspicion of assault on a peace officer, aggravated battery, assault with a deadly weapon, and felony obstruction of a peace officer.
Police ask anyone with cell phone video or information regarding the incident to call the Davis Police Department's investigations unit at 530-747-5400.
———
©2017 The Sacramento Bee (Sacramento, Calif.)
McClatchy-Tribune News Service