Poem: The Meaning Behind the Badge
Take a walk in the shoes of a Georgia sheriff's deputy and dispatcher as she describes what it means to "wear the badge"
---
Calling all police poets! PoliceOne's new column highlights some of the inspirational, moving and funny poems authored by our readers.
"The Meaning behind The Badge" is by Rebecca "Punchy" Thomason, a Deputy Sheriff II with the Forsyth County Sheriff's Department and 911 operator with the Forsyth County 911 Center, both in Cumming, Georgia. Rebecca has been in public safety for over 17 years.
Email your original writing submission for consideration to editor@policeone.com.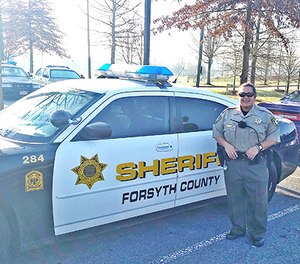 The Meaning Behind the Badge
We work in a job most people wouldn't do.
The blood running through our veins isn't red but blue.
Many hours of training through blood, sweat and tears.
The patrol car is our home a majority of the year.
Some don't understand the split decisions we at times must make.
Whether it's a life we must save or a life we must take.
Just look through our eyes and take a walk in our shoes.
Then you'll know THE MEANING BEHIND THE BADGE we hold so true.
It means we will depend on our dispatchers to be our lifeline and sometimes our ears.
It means we will help calm you down through your sorrows and tears.
It means we will run into the bushes or give chase through the trees.
It means we will push through the exhaustion and the pain crippling our knees.
It means we will comfort your loved ones and rescue the injured from wrecks.
It means we will breathe for a child who is struggling to take a breath.
It means we will stand there for hours and listen to those who just need to talk.
It means we will search in any type of weather for those who are lost.
It means we have seen the good and we have seen the evil too.
It means we have laughed…and yes, even cried with you.
It means we are brothers and sisters forever bonded by a Thin Blue Line.
It means I am HONORED to face the unknown…to save a life at the risk of losing mine.