Mayor suggests NYPD use 'motorcycles and drones together' on calls
By deploying drones in response to 911 calls, NYPD officers would be "well aware of what is in front of them by the time they arrive" at a scene, the mayor says
---
By Chris Sommerfeldt
New York Daily News
NEW YORK CITY, New York — New York City Mayor Eric Adams, on his third day in Israel, suggested Wednesday that NYPD officers would be more effective in responding to crime scenes and emergencies if they could use "motorcycles and drones together" in a coordinated fashion.
Speaking with reporters on a press call from the Holy Land, where he's on a four-day trip, Adams said the unconventional concept came up during a meeting he had with local law enforcement officials near Jerusalem that was also attended by NYPD First Deputy Commissioner Tania Kinsella.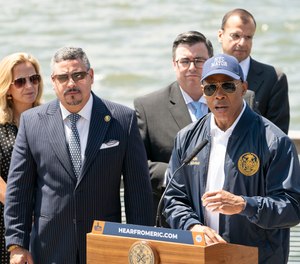 By deploying drones in real-time in response to 911 calls, NYPD officers would be "well aware of what is in front of them by the time they arrive" at a scene, Adams said. If cops are at the same time able to ride motorcycles to scenes and rely on drone footage to weave through traffic, they'd get there faster, he added.
The mayor, who's expected back in the city Thursday, said such tech use could be especially fruitful in congested Big Apple neighborhoods.
"We have a real traffic issue in our city, particularly in Manhattan and in parts of Brooklyn area, and so it is the methods in which they're using them, the methods in which they are training to use them is what caught my interest," he said.
Israeli authorities have faced scrutiny from international human rights observers for using drone technology to surveil Palestinians. Asked about that, Adams vowed that the NYPD "will not use any tool that is not in alignment with the laws of our city, our state and our country."
"Many police forces across the globe, they use various methods that are not suitable in our city, and we are not going to use any method that does not conform with our rights and the laws of our country," he said.
Adams' interest in exploring tech coordination comes on the heels of his administration unveiling new guidelines that make it easier to use drones in New York City. It also comes amid a surge in NYPD-involved car chases.
According to a recent report from the news outlet The City, NYPD officers gave chase 304 times in the first three months of this year — a nearly 600% spike compared with the same period in 2022. The outlet reported the increase in car chases has corresponded with an uptick in injuries among cops and civilians.
Adams has held several meetings focused on technology during his Israel visit.
He has also met with top local leaders, including Prime Minister Benjamin Netanyahu, who's facing criticism from pro-democracy activists in Israel over his far-right government's overhaul of the country's judicial system. Critics say the reforms are putting Israel on a path toward dictatorship.
Adams has avoided taking a stance on the judicial system controversy, telling reporters he's in Israel to "listen" not "weigh in."
However, Israel Gantz, a leader of the Israeli annexation movement in the West Bank who met with Adams privately Tuesday, issued a statement after the sitdown saying the mayor voiced "great interest" in "the growth of Jewish settlement in the region." Gantz also said Adams agreed to tour the settlements next time he's in Israel.
The West Bank settlements are considered illegal under international law, and the U.S. government has condemned Israel's expansion of them.
Asked in Wednesday's briefing about Gantz's comments, Adams said "the word 'settlement' did not come up" in their meeting. Adams would not say, however, whether he agreed to join Gantz for a tour of the Israeli settlements in the future.
—
©2023 New York Daily News. Visit nydailynews.com.
Distributed by Tribune Content Agency, LLC.
McClatchy-Tribune News Service