New fentanyl testing strips aim to bring low-cost, powerful detection to public safety
The MobileDetect Fentanyl Test Strips can detect "nanogram trace amounts" of fentanyl in packaging, in pills and on surfaces
---
By Police1 Staff
SUGAR LAND, Texas — Last month, drug detection company DetectaChem announced an "ultra-low sensitivity" fentanyl testing strips for police and other first responders.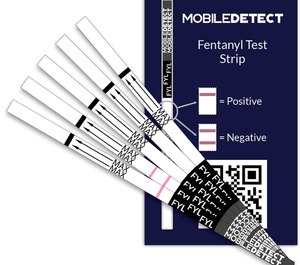 According to DetectaChem, the MobileDetect Fentanyl Test Strips can detect "nanogram trace amounts" of fentanyl in packaging, in pills and on surfaces. The product aims to provide public safety professionals with low-cost, high-sensitivity tools to fight the opioid crisis. 
"Fentanyl tests that were effective just a few years ago now have challenges with new analogues and lower limits of detection required for laced pills and powders," said DetectaChem COO, Travis Kisner, in a statement. "We challenged ourselves to develop a new test that would meet the current needs for trace fentanyl detection."  
According to the release, the test strips detect trace amounts of fentanyl and similar drugs, including Carfentanil, Acetyl Fentanyl, Butyryl Fentanyl, Remifentanil, Ocfentanil, Sufentanil, p-Fluoro Fentanyl, Furanyl Fentanyl, Valeryl Fentanyl and 3-Methyl Fentanyl. 
"We are excited and proud to provide an affordable and highly accurate test for first responders with true trace level fentanyl detection capabilities," Kisner said. "Unfortunately, this crisis is not slowing down, so our best defense is better, safer testing for our men and women on the front line." 
For more information about the MobileDetect Fentanyl Test Strips, see here.