Vegas meth bust nets 8 immigrant arrests
Police seized 212 pounds of drugs worth $5.7 million
---
Spokane Spokesman Review
LAS VEGAS — Eight illegal immigrants from Mexico were arrested on drug trafficking charges after federal and Las Vegas law enforcement officials seized 212 pounds of drugs worth an estimated street value of $5.7 million in the largest methamphetamine bust in Nevada history, authorities announced Thursday.
Police also seized $280,000 in cash, six guns and nine vehicles used for drug trafficking after searching nine residential properties in Las Vegas and Henderson on Tuesday.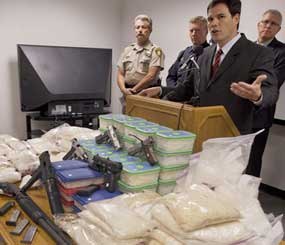 Law enforcement officials heralded the record bust as a significant blow to Las Vegas' illegal underground that would be felt by every player, including drug bosses, small-time dealers and users hoping to score on the street. The raid yielded four pounds of heroin and 208 pounds of methamphetamine in varying stages of processing.
Copyright 2011 Spokane Spokesman-Review