Attempted murder suspect escapes psychiatric hospital in Oregon while fully shackled
Oregon State Police said Christopher Pray is a "dangerous escapee"
---
By Andrew Selsky
Associated Press
SALEM, Ore. — A man newly transferred to Oregon's psychiatric hospital managed to escape while fully shackled and drove off in a stolen van, the Oregon State Police said Thursday.
Christopher Pray, who was previously charged with attempted murder and other crimes, was last seen driving south on Interstate 5, the Oregon State Police said on Facebook, calling him a "dangerous escapee."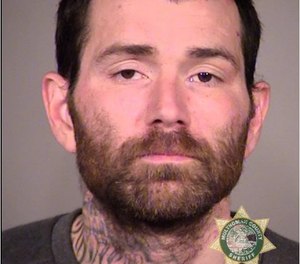 An employee of the Oregon State Hospital was injured during the escape, spokesperson Amber Shoebridge said.
The State Police said they were notified Wednesday night of the escape. Pray "eluded law enforcement southbound on Interstate 5," they said, without specifying how he managed to escape despite being "fully restrained with leg shackles, a belly chain, handcuffs, and a restraint connecting all three together."
Pray faced charges including attempted murder, robbery, assault and felon in possession of a firearm in Multnomah County Circuit Court, where Portland is located, but was sent on Wednesday to the Oregon State Hospital in Salem after he was found unfit to proceed with trial, according to court records.
Shoebridge said in an emailed statement that Pray had "an altercation with another patient" shortly after he was admitted and needed to be taken away for treatment. When he was brought back to the Oregon State Hospital that night in an unmarked Oregon State Hospital van, Pray was "able to gain control of the van and drive away."
"I can confirm a staff member was injured. I cannot provide further details on that," Shoebridge said.
Pray, who was wearing a white T-shirt, maroon sweatpants and black rubber slippers, is considered extremely dangerous, the police said. They asked the public to dial 911 and report any sightings of him or the white 2016 Dodge Caravan he was driving.