Fla. sheriff's unit offers social services aid to head off arrests
The unit consists of five specially trained behavioral health deputies, five homeless outreach deputies and three behavioral health care managers
---
By Tony Marrero
Tampa Bay Times
TAMPA — The Hillsborough County Sheriff's Office has a new unit that aims to connect people with social service resources before they become the subject of another call to law enforcement.
The goal of the Behavioral Resources Unit is to take a proactive approach to help people whose mental health issues, drug addiction or homelessness are behind their frequent interactions with deputies in the past, Sheriff Chad Chronister said at a news conference Monday.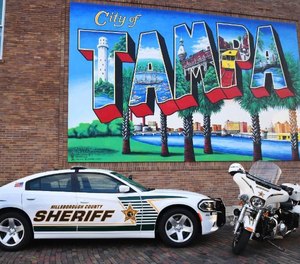 "Mental health issues don't discriminate," Chronister said. "They affect people of all walks of life and it's one of law enforcement's biggest challenges, which is why the creation of this unit is so important."
The unit is composed of five specially trained behavioral health deputies, five homeless outreach deputies and three behavioral health care managers who are either licensed mental health counselors or clinical social workers.
The team identifies what sheriff's officials call "high utilizers" — people who have had many previous contacts with law enforcement — and reaches out by phone or in person to offer help connecting them with resources such as mental health or drug counseling.
These include people who have been taken into custody under the Baker Act, a law allows for the involuntary commitment of people identified as a danger to themselves or others. Other examples of high utilizers include people who have been the subject of multiple drug-related calls or identified as homeless.
Chronister noted that there have been about 10,000 Baker Act commitments in Hillsborough from January 2018 through the beginning of October. Of those, more than 1,200 involve people who have been taken into custody under the law more than once.
"This is a cycle that we must break," he said. "We will solve this problem one person at a time and that is exactly what our Behavioral Resource Unit is doing."
Master Deputy Tobias Smith, who specializes in behavioral health, said deputies often interact with people who have been the subject of Baker Act calls as many as 30 times.
"If we can divert him and get him into other services, maybe some more effective treatment, that would certainly mitigate some of these calls for service because you can't Baker Act your way out of this problem," Smith said in a pre-recorded video released by the Sheriff's Office. "Doing the same thing over and over again, getting the exact same result, that doesn't work."
Smith said the case managers who don't carry a gun or wear a badge can connect with people who are skeptical about uniformed law enforcement officers.
"They have a way of communicating with some of these individuals we're working with that opens doors for us," Smith said. "Oftentimes, people with mental illness see a uniform show up, see all of our gear and get turned off with that."
Chronister said the unit has been operating since July, but he announced the creation of the program eight days before Election Day. Chronister is a Republican incumbent seeking re-election in an increasingly Democratic county and is hoping to fend off a challenge from Democrat Gary Pruitt and no-party candidate Ron McMullen.
Chronister said one of the early success stories is a 50 year-old man who has had contact with the Sheriff's Office more than 100 times due to a mental condition. The new behavioral health team meets with him on a regular basis and has connected him with resources "to help him stay healthy and stay out of the criminal justice system," Chronister said.
The announcement is the latest move by a Tampa Bay law enforcement agency to retool their approach to calls related to mental and behavioral health.
Pinellas County Sheriff Bob Gualtieri created a similar unit at his agency in 2016, with teams consisting of one deputy and one social worker. Last month, Gualtieri announced that he was retooling how the teams are structured and expanding them to six deputies and six social workers, plus a clinical supervisor.
In the Pinellas sheriff's unit, four of the deputy-social worker pairs are responsible for responding to a call and initially assessing a person's situation. Then, those workers hand off the case to one of the other two teams, which are responsible for following up and connecting the person with services or resources that can help them.
Meantime, the St. Petersburg Police Department is gearing up to launch its Community Assistance Liaison program.
In that program, first announced this summer, social services counselors will respond to nonviolent, noncriminal calls such as suicide threats, and then connect the subjects of the calls and their families or caregivers to resources, said police spokeswoman Yolanda Fernandez. The department hopes to have the program up and running early next year, Fernandez said.
NEXT: Persons in mental health crisis: A primer for police response
(c)2020 the Tampa Bay Times (St. Petersburg, Fla.)
McClatchy-Tribune News Service